Alonso: Equal driver treatment at Ferrari
| | |
| --- | --- |
| By Dieter Rencken and Pablo Elizalde | Thursday, January 14th 2010, 13:35 GMT |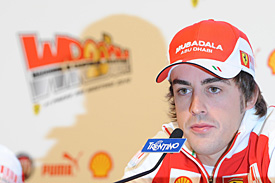 Fernando Alonso is not expecting his Ferrari team to make him the number one driver, and says he has never asked for preferential treatment before.
The Spaniard also hit out at his former team McLaren, suggesting Lewis Hamilton was treated as the number one driver during a part of his troubled time at the British team in 2007.
"I'm not saying to the team that I want to have anything better for me," Alonso told reporters during at Ferrari's ski retreat in Madonna di Campiglio.
"What I do is work 110 per cent with the team and if the team is not working 110 per cent too it's not right. I'm a guy who will push everybody to do their best job possible, as their push me to do the best job possible.
"I never asked to be number one driver in any team in my career and that's coming from nowhere, and keeps repeating again from a minority.
"But what I don't want to be, for sure, is number two, like it happened sometimes in 2007," Alonso added, referring to his season at McLaren.
The double world champion insisted he is getting along just fine with his new team-mate Felipe Massa, despite a spat during the 2007 European Grand Prix.
"I think it's very good, and I think having a team-mate that is not new to the team is good for me, and it can help me, because if both drivers are new to a team, sometimes you are lost with the technical people," he said.
"With Felipe this is not the case, he knows the team, and I think we can be a very strong pairing. What happened in 2007 it was a race, we are competitive people, and again, this is the past.
"We are in 2010 and some minorities keep remembering this 2007 thing, but you can't keep talking about this forever."