| | |
| --- | --- |
| The top 20 MotoGP stories of 2009 | |
| | |
| --- | --- |
| By Pablo Elizalde | Thursday, December 31st 2009, 16:23 GMT |
AUTOSPORT has published thousands of news stories during 2009, here we list the 20 most-read MotoGP articles of the year
20. Schwantz questions Stoner's decision
August 22
Despite medical advice suggesting Stoner needed a break, former world champion Kevin Schwantz didn't see it that way. The American was disappointed by Stoner's decision and felt he should be been out there on the bike. In the end, Stoner's form on his return proved his doubters wrong.
19. Qatar MotoGP race to run on Monday
April 12
It's not often a major international race is held on a week day, but MotoGP's season opener in Qatar had to be delayed when torrential rain made it impossible for riders to take to the track. At first the start was just pushed back an hour, then moved to the next day.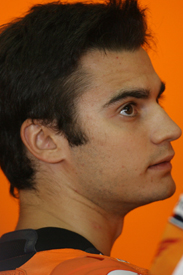 18. Pedrosa considering Ducati move
September 2
Yamaha wasn't the only other home Pedrosa was seeking during 2009 and he also revealed that he had held talks with Ducati. It all came to nothing though, as the Italian team retained Stoner and Nicky Hayden, and Pedrosa stayed put.
17. Stoner diagnosed with mild anaemia
July 14
After the announcement that he would miss three races, Stoner's doctor Claudio Macchiagodena said the Australian was suffering the fatigue of a man twice his age. Following a week of tests, the first clear answers about the former world champion's conditions were starting to emerge.
16. Stoner claims third Qatar MotoGP win
April 13
Following a torrential downpour that forced the Qatar night race to be delayed until Monday, Stoner continued with his dominant form at the Losail circuit and scored his third consecutive victory there. The Australian beat Rossi by more than seven seconds.
15. Rossi: Pushing for win wasn't smart
July 26
Rossi admitted he'd not been wise in trying to fight for victory in the Donington race, after crashing early on. Title rival Lorenzo was already out when Rossi fell, and the Italian admitted afterwards that he should have been more cautious. Nonetheless, Rossi recovered to fifth and still managed to increase his lead in the standings.
14. Ducati: Cold tyres caused Stoner crash
November 8
After enjoying a strong return, Stoner dominated practice and qualifying at the season finale at Valencia. Come race day however, he lost control of his Ducati on the warm-up lap and was forced to miss the final event of the season.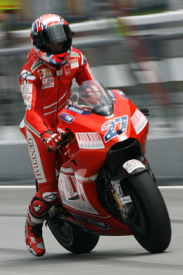 13. Stoner denies career under threat
August 27
Much was speculated about Stoner's future during his summer absence. Some people even believed it was the end of his career. The Australian, however, denied all that and made it clear he was going to return and be strong again. He was right.
12. Lorenzo: Yamaha offer not good enough
July 20
With an offer from Ducati and interest from Honda, Lorenzo was playing hard to get with Yamaha and told them their offer wasn't enough. He was still fighting for the title at the time. Later in the season, Lorenzo was confirmed at the team for at least another year.
11. Pedrosa says he wanted Yamaha ride
September 7
Dani Pedrosa was not a happy man at Honda in 2009, and he made that quite clear when he said the only reason he didn't leave the team was because there was no room at Yamaha for 2010. His comments came just one day after confirming he would stay at Honda for another year.
10. Yamaha refuses bidding war for Lorenzo
July 6
When Ducati and Honda revealed their interest in Lorenzo, Yamaha was quick to make it clear it was not ready to raise the stakes to retain him. Lorenzo said the Yamaha offer wasn't good enough, then decided to stay anyway - even though a move to Ducati would have earned him a bigger cheque.
9. Rossi injured in home incident
February 3
A bizarre domestic incident left Rossi close to missing the Sepang test in February, after he cut the ring finger of his left hand and the sole of his left foot when he fell onto a glass table while closing the curtains in his house. Despite the stitches, Rossi had no problems riding just two days later.
8. Scot Racing withdraws from MotoGP
November 11
Rossi's point was more valid after the end of the season, when Scot was forced to leave MotoGP after Honda was unable to deliver the bike due to an expired time limit. The last 250cc champion team's exit left MotoGP with just 17 bikes for the 2010 season.
7. FIM: 1000cc best future for MotoGP
December 2
Just three years after introducing 800cc bikes, MotoGP's governing body began working on a new plan to run 1000cc engines from 2012. Admitting the 800cc units have not given the expected results, the FIM gave the green light to the new engines - similar to the 990cc units used when MotoGP was first launched in 2002.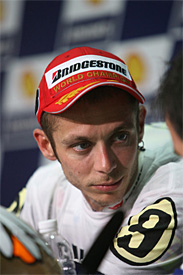 6. Rossi criticises 'elitist' MotoGP
March 11
As the MotoGP field shrank, Rossi called on the sport's manufacturers to do more to help satellite teams get competitive bikes. The world partly blamed the 800cc bikes, which he reckons have made the gap between works and privateer teams 'huge'.
5. Rossi threatens 2011 Ducati switch
November 9
Tensions between Rossi and team-mate Jorge Lorenzo grew, and this was Rossi's original threat to leave Yamaha for Ducati if the Spaniard continued as his team-mate from 2011. Rossi clarified his comments - saying it was journalistic interpretation and that he had no problem with Lorenzo - just a day later.
4. Yamaha backs Rossi's Superbike plan
January 1
One of Rossi's new year wishes was to fight against Troy Bayliss in a World Superbike race, and Yamaha began working to make it happen – even if it meant bringing the Australian rider out of retirement for a one-off event. In the end, Yamaha was unable to prepare a competitive bike in time and the plan was scrapped.
3. Rossi backs down from Ducati comments
November 10
Although Valentino Rossi still has a year to run on his Yamaha contract, speculation about his future is constant in MotoGP circles. Rumours went rife when the Italian suggested he was ready to consider Ducati for 2011, but he later said his quotes had been misinterpreted.
2. Silverstone reveals new MotoGP layout
February 18
Having secured a MotoGP round from 2010, Silverstone set out to create a new layout for the event. A £5 million revamp package will have the track leave the current design at the Abbey chicane and travel up the International circuit towards Becketts.
At the time the new design was announced, Silverstone was not expecting to host the F1 GP as well as MotoGP.
1. Stoner to miss next three races
August 10
After struggling with his fitness for several races, Casey Stoner finally decided to skip three events in order to recover from the mysterious illness that hindered his championship challenge. From the Czech Grand Prix, the Australian was replaced at Ducati by Mika Kallio, before he returned to action in Portugal.