| | |
| --- | --- |
| Ducati: Cold tyres caused Stoner crash | |
| | |
| --- | --- |
| By Michele Lostia and Matt Beer | Sunday, November 8th 2009, 17:31 GMT |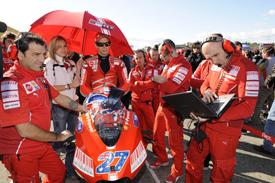 Ducati will reassess its tyre warming procedures after the formation lap accident that prevented Casey Stoner from racing at Valencia.
Stoner had dominated every session of the weekend and taken a comfortable pole position, but then crashed on cold tyres as the field headed around to the starting grid.
"It was the cold tyre," current test rider and incoming team boss Vito Guareschi told Italia1.
"We have a procedure that allows us to do the race without fearing to run out of fuel. We must ask the riders to ride the warm-up lap slowly. With these conditions, in the cold weather, the tyres didn't get up to temperature and Casey slid.
"We'll have to review our procedure, because with these cold conditions we are at risk. Today was an example of that. Nicky [Hayden] was lucky, while Casey wasn't. We are on a very thin line."
The team's technical chief Filippo Preziosi is confident that the accident will not be repeated if Ducati changes its preparation for the races.
"We obviously need to change this for the future and make sure there is enough temperature in the tyre," he said.
"It is the first time it has happened in two years but once is already too much so we will look to improve on that. We have some ideas already and we will have something different in place for the first race of next season."
Stoner was initially downcast about the crash, but later admitted that it could have happened at a much worse time, as on this occasion the crash did not have any impact on a championship battle.
"Obviously this is a frustrating and disappointing way to finish the season," he said.
"There have been plenty of highs and lows throughout the year and we have ended on a low, but with another lesson learnt for next season. We have had this strategy for two years and not had a problem until today so I guess it is better it happened here than in the first race of next season in Qatar.
"The important thing is that after back-to-back wins in Australia and Malaysia we have shown our pace here at Valencia and we know we have everything in place to be competitive next season if we do the job right over the winter."