Ecclestone tips Vettel for championship
| | |
| --- | --- |
| By Matt Beer | Wednesday, December 30th 2009, 12:32 GMT |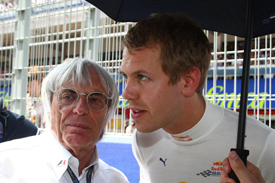 Formula 1 ringmaster Bernie Ecclestone has predicted that Sebastian Vettel will win next year's world championship - and says he is relishing the fight between the rising young stars and returning legend Michael Schumacher.
When asked by German newspaper Bild who he thought Schumacher's biggest rival in 2010 would be, Ecclestone replied: "There are several - [Lewis] Hamilton, [Fernando] Alonso... But I will say this now: Vettel will be the next world champion."
Ecclestone sees Schumacher's return to the grid at the age of 41 as a huge challenge for younger drivers like 22-year-old Vettel.
"Without a doubt, the young ones will want to beat him," said Ecclestone. "He will make sure of that. That's the appeal of all of this."
He also reiterated his belief that 2010 is set to be an epic season thanks to both Schumacher's surprise return and the strength of the new generation.
"I was of course a little surprised - I didn't really expect that he would drive for Mercedes, but now I'm just simply very, very happy," said Ecclestone.
"He wouldn't have come back had he not been thinking of victory. He really does seem very motivated.
"It is good for everyone, very good actually. For the media, for the fans and for the sponsors - but I cannot express it in numbers. It is impossible to calculate.
"Don't forget, next year we have four current or former world champions in the shape of Alonso, Hamilton, [Jenson] Button and Schumacher on the starting line. I can't remember the last time that happened."