Duno plans ARCA Daytona debut
| | |
| --- | --- |
| By Diego Mejia | Tuesday, December 22nd 2009, 08:51 GMT |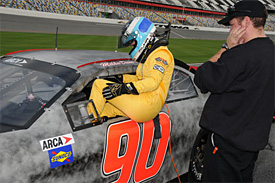 Milka Duno plans to join IndyCar rival Danica Patrick in the ARCA season opener at Daytona on February, after enjoying a successful first stock car test at the track last weekend.
Duno was one of several female drivers taking part in the three-day ARCA RE/MAX Series test at the 2.5-mile oval, where she set the 13th fastest time during her only full day of running among 60-plus drivers.
The Venezuelan was more than happy with her test at the wheel of Braun Racing's #90 Toyota, which she drove for a full day on Saturday but only for a few laps on Sunday due to an engine problem.
"I think I adapted to the car pretty quick, although it was not easy," Duno said. "I think the times show that.
"The car moves around a lot and you have to be very gentle. But I'm happy with the result although I think I could have done better on Sunday, if not for a broken piston on the engine."
Duno took particular delight in beating rival Danica Patrick on the timesheets on Saturday, when most of the drivers completed the bulk of their running.
"Well, she was testing last week at another track," said Duno referring to a private test session Patrick held at Orlando before running at Daytona.
"She ran a lot more laps than I did on Saturday, plus she had two cars at her disposal. And despite that she wasn't faster than I was."
Following her first test, Duno is targeting the ARCA season opener at Daytona on February 6 to make her stock car race debut.
She says a deal is close and pending on sponsorship money, but she is also considering taking part in some NASCAR Nationwide Series races during the year.
A further ARCA test could take place at Talladega if her plans to race at Daytona finally materialise.
"We would like to run the ARCA race in February," said Duno. "I think the team was very happy with what I did in the test, but we need some sponsorship to make it happen.
"The real plan is to do some ARCA races and some in Nationwide also. That's something we've been working on for a while and I hope it happens."
Besides Duno and Patrick, ARCA regular Alli Owens was notable among the female on track at Daytona last weekend, setting the third fastest overall speed.