Mosley denies reign was autocratic
| | |
| --- | --- |
| By Matt Beer | Sunday, December 13th 2009, 10:10 GMT |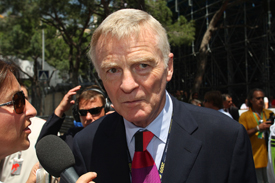 Former FIA president Max Mosley says the fact that his preferred option of banning McLaren for 2007's 'spygate' scandal was not accepted disproves accusations that his leadership was dictatorial or autocratic.
Writing in today's Sunday Telegraph, Mosley recounts the event of both the spying scandal and the abortive FOTA breakaway earlier this year from his perspective, and argues that in both cases he acted with the sport's best interests in mind throughout.
Mosley explained that he wanted to exclude McLaren from both 2007 and 2008, but was outvoted by the rest of the World Council.
"Armed secretly with the entire intellectual property of their main rivals, not to mention a flow of additional information from Nigel Stepney, their 'mole' inside Ferrari, McLaren had clearly enjoyed a massive but wholly illegitimate advantage," Mosley wrote. "This called for a sporting penalty. The most appropriate one was to exclude them from the championship.
"But there was also 2008 to consider. They had had this information in the crucial April to July period during which the following year's car takes shape. They would have had the benefit of the combined knowledge of McLaren and Ferrari in developing their 2008 car.
"The only safe thing would have been to exclude them from 2007 immediately and also from the 2008 championship. But with little or no income for 18 months and over 1,000 employees, their situation would have been dire. A ban would also have destroyed the great championship battle which was going on between Lewis Hamilton and Kimi Raikkonen.
"I was for a ban. I understood the consequences but I believe in the old legal maxim 'hard cases make bad law'. But I was outvoted (so much for the accusations of dictatorship) and the council went for a very large ($100 million) fine instead."
He feels that the personal criticism he received over McLaren's punishment and the newspaper coverage of his private life in 2008 then damaged his position heading into the period of uncertainty caused by the global recession.
"For me, personally, 'spygate' and its consequences marked a new era," Mosley continued. "The view that I was too aggressive, too confrontational and perhaps even a bully was peddled non-stop. I was blamed (wrongly as it happens) for the size of the fine.
"So when Formula 1 confronted a real problem just over a year later I was less well placed to deal with it. And my situation was worsened by revelations about my private life, notwithstanding a big vote of confidence by the FIA and successful litigation against the newspaper responsible."
Mosley's belief that a budget cap regulation and encouraging new teams independent of the car manufacturers was the best way for F1 to survive the economic crisis put him at odds with FOTA earlier this year, and led to threats of a split in the sport. This was eventually averted and the new Resource Restriction Agreement was adopted instead of the budget cap. But Mosley stands by his handling of the situation.
"Doing nothing and hoping for the best is seldom the best way to meet imminent danger," he wrote. "I was kicking myself: we had probably been one of the few sports or businesses that had foreseen the problems of 2008 and taken steps to prepare ourselves - but (for all the wrong reasons) we had not finished the job.
"Now we had to finish it. We knew that if we delayed, it would be too late for any new team to build a car for 2010. So we published the principles of our new rules mid-March. Then, in the continuing absence of any dialogue with FOTA and after discussing the matter in two WMSC meetings, we published detailed rules on April 29.
"FOTA told the world this was 'dictatorship'. It was cited as an example of my 'autocratic' style. No doubt they would have preferred us to do nothing so that they remained in a powerful position as the only teams in Formula 1.
"But from an FIA point of view, given our duty to maintain a full grid and the refusal of the FOTA teams to discuss rules for cost reduction and their inability to provide guarantees of participation, it is difficult to see what else we could have done."
Mosley decided not to stand for re-election this autumn and has now been succeeded as FIA president by Jean Todt.