Q & A with Nick Fry
| | |
| --- | --- |
| By Jonathan Noble | Thursday, December 10th 2009, 11:34 GMT |
Nick Fry has been at the centre of some of the most incredible stories of the past year in Formula 1, from Honda's transformation to title-winner Brawn, to Jenson Button's surprise departure, the Mercedes takeover and the Michael Schumacher comeback rumours.
At the Motor Sport Business Forum in Monaco, AUTOSPORT heard Fry's thoughts on the current issues facing the Mercedes team and F1.
Q. Have the other teams approved the name change from Brawn to Mercedes?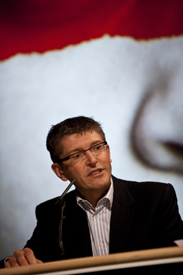 Nick Fry: The reaction we've got from most of the other teams is positive. Why anyone would not want to wish the name Mercedes, which I think is one of the top three brand names in the world, to be on a chassis would be an interesting discussion to have.
Q. Is there a timetable for deciding your second driver? Is it now likely to be in January?
NF: Possibly. We're working on it. We've got nothing to say at the moment. We might say something before Christmas but it's more likely to be the beginning of January.
Q. Has Kimi Raikkonen's move to rallying changed things for you?
NF: Obviously it's changed things in that Kimi was on the list and he's someone that we had some discussions with. He's not on the list anymore and we're discussing things with others.
Q. Is Michael Schumacher in the equation?
NF: We're discussing things with a number of different drivers.
Q. But is Schumacher one of them?
NF: A number of different drivers...
Q. How long's the shortlist?
NF: Three or four.
Q. Are they all German?
NF: Nationality's literally got nothing to do with this at all. Mercedes expressed a preference, that it would be nice to have a driver who was German, and we've got that already with Nico [Rosberg]. It wasn't a big deal from the start. It would have been a nice thing to have and we've got that already, so it's completely irrelevant in the decision.
Q. Is it important to have a race winner in the line-up?
NF: I think Nico is a [potential] race winner. Jenson [Button] had only won one until this season. It shows what can be done in an extremely good car, and I think Nico will flower, especially under Ross Brawn's tutelage. I'm hopeful we'll give him a very good car next year. Possibly he's not had the best car for the last couple of years, but what he has managed to do is accumulate a lot of experience and that's very attractive to us.
He's still very young, he's got four years of Formula 1 experience and he's certainly got the speed and the genetic structure. I think in our team with Ross coaching him he can be a race winner, undoubtedly.
Q. Are you looking for age and experience in the second driver or a young talent?
NF: Experience. I think we learned very clearly this year that you've got to have two drivers capable of scoring points in every race. The reason we won the constructors' championship is because we had that. Both drivers did a sensational job and they were both very similar to each other. We knocked in the points at virtually every single race, and you need that. With the lack of testing, it's very difficult to expect a younger driver to do that. Clearly highest on our list are people with F1 experience.
Q. Is FOTA involved in discussions about a new Formula 1 tyre supplier?
NF: Very much so. We're working with the FIA and FOM to sort out the tyre situation. It's one of the highest things on the agenda.
Q. How are the talks progressing?
NF: I would say good progress. We're looking at alternatives.
Q. Will it still be a single supplier?
NF: I think the single supplier route has shown to have significant merits, probably from a supplier point of view and also a cost point of view. Part of the problem with Bridgestone is the fact that they've achieved a huge amount in Formula 1, they've done a great job, and if you look at their brand metrics, it's difficult to know where it would go, because their brand impression of being a very good supplier of high performance tyres is at a very high level now. We'll find a solution, I'm sure.
Q. Is having no brand and tyres produced in-house by F1 an option?
NF: That's not been discussed in my presence.
Q. Are you expecting there to be 19 races on the 2010 calendar? Any doubts over South Korea?
NF: Not as far as I know. Speaking to Bernie and knowing the capabilities in Korea, the feeling is that if they've said they're going to do it, then they will. They've got the resources and they've got the ability to do that. I haven't heard any significant doubts.
Q. Are you expecting all 13 teams to race next year?
NF: That question was asked with the new team members present at the last FOTA meeting I was at, and they all confirmed that they were on target to be there. If that's what they're saying, then that's what we'd accept. They've all told us that they're planning to be on the grid, which will be fantastic.
Q. How is the sponsorship environment at the moment?
NF: It's always tough to get sponsors and I don't think the situation has significantly changed. But what has changed year by year is where the sponsors come from. It's clear at the moment that there's a huge amount of interest in Asia and the Middle East. It's fairly obvious why - that's where the races are and that's where the economic activity is.
I don't think getting sponsors, whether you're in football or Formula 1, is an easy business because there are a lot of alternatives where people can do different things. Certainly having Mercedes as owners has further helped our situation because this is clearly a group of companies that are probably less interested in being involved with an independent team who are more interested in being involved with a manufacturer or a big company, and especially one with such a quality brand image.
Q. Will 2010 be an easier season for F1?
NF: I hope for us it is. I don't think it's a case of it being easier, if it's easier then we're probably not doing such a good job. We've just got to be pushing the whole time because the competition of other sports and media are trying to do their best as well. I wouldn't expect this to be easy. If we wanted an easy life, we wouldn't be involved in Formula 1. I think 2010 will hopefully be more focused on the racing and the sporting side and improving the show rather than negotiating contracts, which is what we spent all of '09 doing.
Q. F1 has new stars now, does it still need Michael Schumacher?
NF: I think whether it be Michael or having another prior world champion, it just adds another very interesting element. Can someone who's 40 or 41 years old compete against someone who is 24 years old? In other sports people have proven that they're very capable even at that age, and I think that would add another fascinating aspect. It's irrelevant whether it's Michael or Jacques [Villeneuve], or I was joking with Mika [Hakkinen] the other day that maybe he should throw his hat in.
Q. How will the relationship between Ross Brawn and Norbert Haug work?
NF: The running of the team continues exactly as it is. I will continue to do the job I've been doing, and Ross will continue to do the job he's been doing. Norbert is the manufacturer and owner representative and will continue to do what he's been doing. We're not expecting any significant change between any of us.
Q. How do you feel about Mercedes taking control of its own team when other manufacturer-owned squads are pulling out?
NF: For us it's the absolute perfect situation. We've got Mercedes with 45 per cent and we've got Aabar, people keep forgetting their involvement, but they're one of the biggest investment companies in the world, with a huge portfolio. They've got 30 per cent, and Ross and myself and the other existing shareholders have got 24.9, and I think that's a great split because it balances out the different requirements.
Q. How do you see the battle between Lewis Hamilton and Jenson Button at McLaren unfolding?
NF: I think it's going to be fascinating. I've had some nice chats with Jenson over the last few days at social functions and contrary to what people might think there's no hard feelings at all. We wish him all the best. We were disappointed that he left our team but we've got a good relationship.
I think Jenson's got a difficult task ahead of him. It's nothing to do with whether he's got the talent - which I think he has - it's all to do with going into a team where Lewis has been for a long time and knows the team very well.
In my experience in Formula 1, for a new driver to come into any team takes months or even most of the first season to really understand the lay of the land. That's quite difficult to do. Jenson's a brave lad taking that on. He's got the raw skill to do it, but in terms of learning how the team works, he's going to have to accelerate himself up the line very quickly.