Renault meets to discuss F1 future
| | |
| --- | --- |
| By Jonathan Noble | Thursday, December 3rd 2009, 14:09 GMT |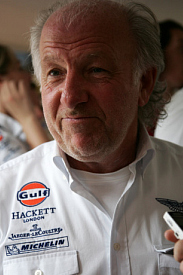 Renault's executive committee is meeting in Paris today to discuss the future of the Formula 1 team, amid mounting speculation that the outfit could be sold to David Richards.
The French car manufacturer has been surrounded by rumours for several months that it is looking to offload the F1 operation to an interested buyer - talk of which intensified when Renault's CEO Carlos Ghosn recently questioned the benefits of his company being involved in the sport.
"F1 is one of the most-seen spectacles in the world," he said in an interview with Forbes India magazine. "It is facing some challenges: Challenges on how fair it is and how do you marry F1 with the environmental concerns. Can you bring zero emission through technology? So there are lots of questions about F1."
He added: "I notice that in the last year, three car manufacturers have bowed out of F1. Three in one year! That means there are a lot of questions that we need to resolve."
Renault has been evaluating its future plans since the end of the season, and sources suggest that one of the routes being most seriously considered now is for the team to be sold to Richards' Prodrive operation.
Prodrive has long held F1 ambitions, having come close a few years ago to running customer McLaren-Mercedes cars. Richards was unavailable for comment about the matter on Thursday.
However, a Prodrive spokesman said: "We cannot comment on the Renault situation, but it is well known that our intention is to get back into F1. We proved our credentials earlier this year when we had a strong business case for an entry, but having had an engine deal with Mercedes-Benz in place we were not willing to sacrifice our competitiveness."
Should the executive board make a decision about selling the team to Prodrive, then it will still need to be ratified by the Renault's main company board - which is scheduled to meet next week.
Sources have suggested that Gerard Lopez, of Mangrove Capital Partners, will also be involved in a future Renault deal, having held discussions with the French car manufacturer since late last year.
Lopez runs the Gravity Sports Management company, which looks after several drivers including Jerome d'Ambrosio, Adrien Tambay and Ho-Pin Tung - who tested for Renault at Jerez this week.
Despite the uncertainty over the future, Renault has been continuing to work hard on its preparations for 2010 - and recently undertook a technical staff reshuffle to firm up its operations for next year.