Q & A with Daniel Ricciardo
| | |
| --- | --- |
| By Jamie O'Leary | Wednesday, December 2nd 2009, 08:54 GMT |
British Formula 3 champion Daniel Ricciardo was delighted with his first day in a Formula 1 car during young driver testing at Jerez yesterday.
After setting the fourth fastest time for Red Bull Racing, and completing 112 laps, he told reporters about how his day had gone.
Q. Sum up your first day in a Formula 1 car.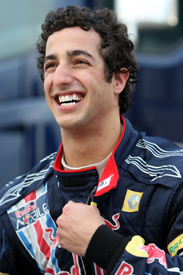 Daniel Ricciardo: The day was good. I finally got to tackle one of these things around a racetrack. It went well. I did the most laps of anyone and had a good pace, so it was good.
Q. How was it compared to the F3 car?
DR: It's another step up. To be honest, the F3 car prepared me well for this. The level of grip compared to the power is actually quite similar between the two cars. The F1 car, as funny as it sounds, is a bit underpowered compared to how much grip it has. It was just a case of me getting used to higher corner speeds and better brakes.
Q. Describe your early spin.
DR: The track was very cold and green, I guess. I'm not going to make any excuses. I just got out of the corner and lost some traction and spun. But it was okay. It could have been far worse.
Q. Were you on the hardest tyre compound when you spun?
DR: I can't remember. We all started with new tyres and they still had the shine on them. It's probably the main reason you had a spin.
Q. Did you spin to avoid Brendon Hartley?
DR: They were two totally separate incidents. Once I was in the spin, I noticed he was stopped as well, and we arrived within a few metres of each other, so it would have been a bit embarrassing if we'd collected each other. It was completely a separate incident, and luckily for me, it was the best scenario it could have been.
Q. Was the biggest problem just getting used to the car?
DR: Yes. The first few runs I concentrated on getting used to it. We then had quite a bit of aero work to do, so we just quietly worked on it throughout the day. Stuff for next year that the team wanted to try out.
Q. How did it feel to get the test drive for this week?
DR: When they finally confirmed it there was a huge smile on my face. I got on the phone to the team to find out that it was all happening. Then I found out when it was going to be and how many days. Once I got all the confirmations, that was a big relief because it's what I've been working for all year.
Then driving out of the pitlane... That was a moment, because even when you get the confirmation, it doesn't really hit you until you're out on the track. That was sweet. I was nervous and excited, but more excited. It seemed to work out already.
Q. How big a responsibility is it to know that the team that finished second in the world championship has entrusted the car to you for all three days, when no other team is running just one driver?
DR: It dawned on me when I got the confirmation. Red Bull won the last three grands prix of the year, so this is probably the fastest car here. That was a huge privilege and quite an honour. I definitely recognise that, but at the same time I don't want to dwell on it too much and won't put too much pressure on myself because of it. I did notice it though.
Q. Is the aim to secure the test and reserve drive for 2010 to go alongside your Formula Renault 3.5 race programme?
DR: Yes. It would be great to get something like that for next year. We'll see how the test goes, but not much has been touched on that just yet. If this test goes well then that position could be up for grabs.
Q. How much rivalry will there be between yourself and Brendon Hartley next year if you are team-mates in Formula Renault 3.5, and test drivers for Red Bull and Toro Rosso? Are there bragging rights up for grabs between an Aussie and a Kiwi?
DR: To be honest, we get on well. We only live 10 minutes from each other near the factory and we have a good relationship. There's been no tension between us, no rivalry, and if it stays like that it will help. That way we can push each other in the right direction rather than trying to take each other down.
Q. Did your routine change when you found out this test was coming up?
DR: Only really with regards the training on my neck. I was told not to change too much from what I've been doing this year because it would be more of a shock to the body if I did. So it's just more fine-tuning from what I've done already. It seems to be working. At the end of the day I wasn't falling over or anything, so that's all okay. We'll see how it goes over the next few days.
Q. How was your neck?
DR: It was a bit of a strain on all the fast left-handers, but I didn't have any padding today, so we'll see tomorrow if I need to ask for it.
Q. How does the car compare to the Formula Renault 3.5?
DR: Higher corner speeds definitely, but the 3.5 with braking it's not too bad because that car has carbon brakes too. So the feeling of the car is not too different compared to the F1. For sure the F1 will still stop more and faster because it has so much more downforce. I guess the 3.5 is a bit underpowered too, which helps.
Q. How much support has Mark Webber given you?
DR: He's been good. He called the night before the test. Obviously he couldn't be here because he had the operation on his leg last week. But he gave me some advice, tips, told me to chill out and just enjoy it. That's the best advice I've been given. It takes the pressure off. I'll give him a call tonight and tell him how it went.
Q. Was the driving or giving the team technical feedback the hard bit?
DR: To be working with quite so many people was an experience. Having so many people around the car was a big shock at first, but at the end of the day, once the engine's on and you're out of pitlane, it's just me and the car, so that's not a problem. Once you're out on track they talk to you on the radio.
With the driving, sure I still have to find bits and pieces, but nothing really stood out as being too difficult to get used to. The biggest challenge really was in the slow corners as you try to manage the power. In an F3 car you get out of the turn, stomp on the throttle and it drives away. You need to be a bit more fragile with this car.
Q. You seemed very relaxed this morning, almost abnormally relaxed. Is that normal for you when you drive the car?
DR: During a race weekend I'm a bit more tense. In general I try to be relaxed and chilled out. Some things I've seen other drivers do is a bit too much. I try to be chilled out. Tonight I'll sleep well and try not to think too much about today, whereas some guys will still be racing at 100mph in their sleep. I'll chill out, listen to some music and relax.
Inside the car, it's serious, but with the helmet off I'm relaxed, and I'm just starting to get to know the team. We're already having little jokes, which releases a bit of the tension.