Hamilton more motivated than ever
| | |
| --- | --- |
| By Matt Beer | Saturday, November 7th 2009, 10:14 GMT |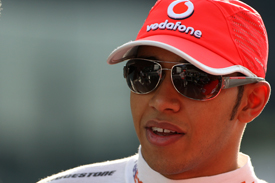 Lewis Hamilton says his passion for Formula 1 has only increased during his difficult 2009 season, and he is more motivated than ever going into 2010.
The 2008 world champion was unable to successfully defend his title as McLaren lacked pace in the first half of the year, and he was also rocked by the scandal over his misleading comments to the Australian Grand Prix stewards.
But Hamilton and the team recovered to take victories in Hungary and Singapore, allowing the Briton to end the season fifth in the championship.
"I've learnt a lot about effort, dedication, motivation: things that you almost take for granted when you are at the front, but which mean a lot more when you are fighting at the back," Hamilton told his personal website.
"I've grown as a man, and as a driver - I've faced bigger hurdles this year than in my previous two seasons and I think I now know how to cope with things better than I did – even from one year ago.
"I also think we are a much closer group now, too. We've known each other for one more season, and the physical bonds between us all are so much tighter – we've been through a lot together and we know each other a lot better. That's something I really appreciate – and I think that will make us a better fighting unit next season.
"To be honest, I'm ready to go racing again next week – at the moment, I think I can safely say that I'm more in love with Formula 1 than I've ever been, and I just can't wait to get back out there again."
The 24-year-old reckons he ultimately benefited from all the challenges of 2009.
"The first difficulty we faced this year was during testing: we knew the car wasn't the fastest but, at the Barcelona test in week 11, it became really clear to us that we were struggling and we just didn't have the pace of the frontrunners," Hamilton recalled.
"I remember phoning [team bosses] Ron [Dennis] and Martin [Whitmarsh] and explaining to them that we had a lot of work ahead of us if we were going to turn MP4-24 into a race winner.
"That was a difficult call, but Ron and Martin gave me their full support and we actually started to look at a rescue plan immediately – there was no waiting. So what was a difficult experience at first actually turned into a positive one.
"The other tough moment happened not long after, in Melbourne and Malaysia. And that was a difficult time for me personally – but I strongly believe that I used that experience to grow as a person and to become stronger through it.
"I'm a firm believer that every experience you have – even the bad ones – help to define and build your character. You can't change the past, but you can definitely learn from it, and I overcame that situation in Melbourne, I had the courage and conviction to man up about it in Malaysia and, ultimately, I came out of it stronger."