Q & A with Sam Michael
| | |
| --- | --- |
| By Edd Straw | Friday, November 6th 2009, 11:22 GMT |
Q. What is the appeal of Cosworth as an engine partner?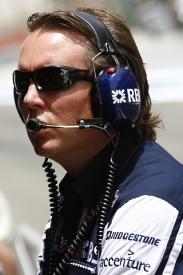 Sam Michael: They are an independent, engineering-led company, which is pretty much identical to Williams. Engineering is at the forefront of everything they do and that was a big attraction. The reliability of their original engine should achieve pretty good levels with the current rules because it was an engine that was designed to much higher revs back in 2006.
Now the limit is 18,000rpm so you have a very robust basis for an engine. Those were a couple of areas that we thought were quite strong. If you look a back to 2006, it was one of our most unreliable years, but one of the things that was clear to us internally was that there was only one DNF from an engine failure.
There were other engine-related failures but that was because of packaging and other areas of the car that we didn't have time to optimise because it was such a late decision. Cosworth have got a lot of work to do over winter to consolidate and make sure that that reliability is realised for the start of next year.
And fuel consumption is an intensive area of development at the moment so that's it on the technical side. From a strategic point of view, they are only 50 miles from us, they are very easy to communicate and so far all of the design meetings we have had to integrate the engine have been very positive and well-received.
Q. In 2006, Williams decided to drop Cosworth in favour of Toyota. Now, you are going the other way. Have the changes in regulations made the Cosworth more desirable again?
SM: The sport has changed massively since 2006. If you look back from the early 2000s to the last 18 months, it has been manufacturer dominated but that's shifting significantly. There were different reasons for not being with Cosworth back then. But you can also ask if the decision we took was correct? We don't know, because history sets itself and that's it.
If we had continued with Cosworth back then, maybe it wouldn't have been the best thing. That's the great thing about F1 - it keeps evolving and it's a process of change right now and that has led things back to an independent engineering group being the best thing for Williams.
Cosworth has got two big hurdles. Fuel consumption is critical with no refuelling, and their target for the winter is to improve that. The other is reliability. Everyone has accumulated three years of running on their engines while Cosworth has been out and gained thousands of kilometres of knowledge.
Q. Is the Cosworth a winning engine?
SM: We won't know that until we get it on the track. Our target is always to be at the front and with the grid being so tight now it's even more realistic to have that as a target as the regulations have closed everything up so much. Finding one or two tenths from aerodynamic or some other gain can put you in with a shout of winning races. That's why there have been so many winners this year. Cosworth are going to do a good job.
Q. Have you got enough time to adapt the design of the 2010 car to run the Cosworth engine?
SM: We've been into it for quite a while. Obviously Brawn showed what is possible this year and how you can make an engine decision late, but to think that we wouldn't have a more optimised version in 2011 would be incorrect because there's no doubt that you always in the second and third years of an engine partnership get more and more refined and understand what advantages there are. But there won't be anything significant on the 2010 package that is compromised because we've tackled the issue.
Q. Will you continue to run your own gearbox?
SM: We make our own gearbox and there's no debate over that.