Theissen says his future remains open
| | |
| --- | --- |
| By Jonathan Noble and Pablo Elizalde | Tuesday, November 3rd 2009, 15:14 GMT |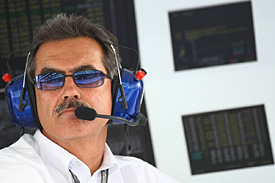 BMW motorsport boss Mario Theissen says he is yet to decide on his future following the German car maker's decision to leave Formula 1.
BMW announced earlier this year that it was leaving grand prix racing at the end of the 2009 season, and Theissen admitted his options remain open.
He made it clear, however, that his main priority is to try and secure a place on the grid for the Hinwil-based squad for next season.
"It's open," said Theissen about his future. "I certainly have the option to stay with BMW with the other racing programmes. But I deliberately pushed the decision out of my way until the final race, so I will decide in the coming weeks.
"But the top priority is to get a place on the grid for the team, and even after that I will think about my own future."
Although the financial future of the team was secured despite BMW's exit, the outfit still has no place on the grid, as some teams have decided not to allow an expansion of the grid in 2010.
Theissen insisted the team's best option would be for one of its rivals to pull out before 2010.
"Apparently at the moment we don't have unanimous agreement on the 14th team so another team pulling out would be the easiest way from our perspective," he said.
"Everybody says it's very likely [a team will leave]. It's unlikely to have 14 teams ready next year, maybe not even 13. But that's all speculation at the moment."
Theissen admitted time is running out for the team, and is hopeful a solution can be found before the end of the year.
"Apparently they [the team's owners] are keen for a decision soon, like us, because you can only sign driver contracts and sponsor contracts when you have a place on the grid. So they are pushing together with us," he said.
"There is no deadline. There is no clear deadline. It just becomes more and more difficult day by day. I hope it will be decided before the end of the year."