Q & A with Jenson Button
| | |
| --- | --- |
| By Jonathan Noble | Thursday, October 29th 2009, 15:42 GMT |
Q. You said you spent the Sunday night in Brazil pinching yourself about winning the title, as you still couldn't quite believe it. Are you still pinching yourself?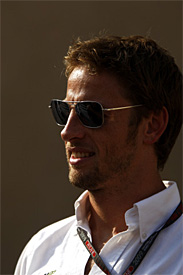 Jenson Button: I didn't realise that if I pinched my engineer, I wouldn't feel the pain. But he loved it! Am I still pinching myself now? It is a very strange situation because after the race in Brazil I headed back to the UK and had a PR day in Bluewater - which was a lot of fun. Then I headed up to the factory. Got into the simulator, and then spent a few hours with the team. It was really nice. We were in an auditorium and the whole factory, all of the people who were working that day, were in there with me. I was stood on a little box, doing a little speech, but I spent an hour in there.
They were asking questions, and it was such a buzzy atmosphere. It was great. Normally we have those meetings and we have either had a bad race or a good race, and you are always looking forward, and saying to the guys, we need to improve here, we are good here. Let's stay focused. But it was nice to just reflect on the season and not talk about the future – just enjoy what we had achieved.
Since then I have been in Dubai for a week, with my girlfriend and with some friends and a few people who have made it happen. So it has been a special few days, and we've enjoyed ourselves. It has also been very relaxing, and that is the sort of time when you lie in bed, you think about the season, you think about the previous years, and all those faces of who have helped you along the way flash through your mind. So it has been a special few days – but a strange feeling because you have achieved what you set out to do in your career. For so many years you have been fighting for it, and you've achieved it.
And where do you go from here? Well, there is a lot to achieve after here. There are new goals, and new challenges. I am not going to think about them too much now, but there are a lot of challenges out there I am excited about.
Q. Ross Brawn said in Brazil that he was looking forward to seeing you 'uncaged' this weekend.
Q. Do you feel like that?
JB: No. This weekend I am going to enjoy myself. It has been a while since I have jumped into an F1 car and not felt stressed, or a little bit under pressure. It is the first time I can relax and go and do my thing. This will be my first time when I drive out in a Formula 1 car and I will have world champion written on my helmet....
Q. What, you've actually written it on there?
JB: I don't know! No. I don't know why I said that! But you know what I mean – it is going to be a very special feeling. I am just going to enjoy this weekend. And after this weekend, I can relax and get away from F1 for a few weeks – which I think is what you need to do, which will help you come back stronger when you do finally step back into the frame.
Q. If you are going to be a bit more relaxed this weekend, how would you expect that to manifest itself on the track?
JB: I don't know. I haven't got a clue.
Q. Will driving the car feel different?
JB: It has been a long time since I've driven an F1 car and not thought about the season, because leading the world championship every race is very exciting but there are pressures involved with that. The last time I wasn't thinking of the world title would have been the last race in 2008. So this will be the first race this season I can go out there and just enjoy the weekend – which is going to be a nice feeling for sure.
Q. How do you feel about the name Button sitting alongside the likes of Fangio, Senna, Prost, Schumacher on the title winners' roster?
JB: You have to list them all! There are 32 I think. It is crazy, isn't it? It is something that I've dreamed about for many years. It is a great feeling but before you achieve it you never know what to expect, and you never know how that is going to feel.
As a kid I would have been 'wow' to have that possibility of having my name alongside all those great drivers. But because I have had to work so hard for it, and every driver has to work so hard for it in their career, it is 'I've done it' but I don't get too excited. It is a difficult one to explain. It is very, very difficult. Having worked for something for so long, and then to achieve it, it is difficult to know how it feels to have my name against those big drivers.
Q.Is a big part of that the fact that being world champion is something no one can take away from you?
JB: That is a nice feeling. I will always be a world champion and that is something by dad stated in an interview. He said that you are a world champion forever. My engineer Shov, was very excited over the weekend in Brazil but he sent me a text message two days later, saying I've just realised what we've achieved. Obviously he had a couple of shandies, and he said, 'I am home with my lovely family, and I've just realised what we've achieved: we are the best in the world at the moment – the best at what we do. And I cannot wait for my kids to be old enough to be able to tell them what we have achieved.' That is something that excited me about my future, for sure – having the family and telling them that your daddy was world champion…But that will be in 20 years' time, before you start writing Jenson can't wait to have kids.
Q. On your more immediate future, were you a bit surprised last week to read that you were on your way to McLaren?
JB: I read the newspapers after the weekend, because it was all positive and great. I couldn't get away from it, as I was in the UK. But then I travelled to Dubai and I have not been on the Internet all week. It is the first time this year, and it's a nice feeling being away from this crazy little world that we live in. I've started discussions with Brawn, but we are not going to talk seriously until after this weekend. We can sit down and discuss it then, when we can focus on discussing the future.