Q & A with Robert Kubica
| | |
| --- | --- |
| By Jonathan Noble | Thursday, October 29th 2009, 12:46 GMT |
AUTOSPORT catches up with Robert Kubica ahead of his final race with the BMW Sauber team, before he begins life as a Renault driver.
Q. There's rumours that Renault want to offload its team, what is your information on that?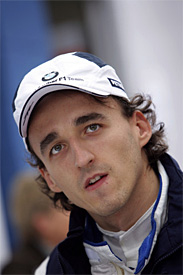 Robert Kubica: As you say, it's a rumour, and this is my comment. You say it's a rumour and I will not comment on a rumour. I have never done it in the past and there are many rumours going around and that's how it is. We will see in the future. We will see who was right, and that's how it is.
Q. Can you sum up the season for you?
RK: I think it has been a difficult season. A season with a lot of difficulties, I think not only one. The first one was of course the performance of the car. Then another one was the KERS, no KERS situation. First pushing with the KERS car and to then switch completely to a non-KERS car. And then another one was about BMW not continuing in F1. So for sure many difficult moments.
From a driving point of view it was also not an easy season. I think I did a few races with very good performance, like in Australia or Malaysia. If you review the Australia race and see where we were with the car I think it was not so bad, or even the last race in Brazil. When you have a car to fight for P12 in the middle of the season it's difficult to make an impression. The difficulties to the season started from trying to really concentrate on KERS, which didn't work out for us.
Q. You are one of the drivers who has his future sorted out for next season, how much of a help is that in preparing?
RK: Apparently not (laughter). I think today, when everything in F1 is quite uncertain with many questions marks on drivers and teams, I think I'm very happy I'm quite well placed for the future with Renault. I'm sleeping well, so that's good. And I'm looking forward to the new challenge. For sure it will be a big challenge because I think Renault is very motivated to come back, to put the negative moments behind and that's why I think we have a good chance to do well next year.
It will be much better for me to test in two weeks' time and know where I'm standing. Otherwise you'd be all winter just guessing and believing the numbers and just hoping the numbers will be good. As I said, there's huge motivation in the team I'm joining and I'm motivated very much for the new challenge, so I think it should be okay.
Q. What are your impressions of the new circuit?
RK: I think it's a different style of circuit. If we talk just about the circuit it's difficult to say because I have not driven it, but it looks interesting, although I think there are two different parts. What is interesting is the the practically free long straightlines where you will reach 300 or over or just under and then heavy breaking. And then you go on the other part with low-speed corners so you have to try to have downforce but also a good top speed. Around the circuit is nice, but to be honest, I don't know what's going on around. Everything is new so it's looking good.
Q. Do you think this is going to become one of the "real" tracks?
RK: I think real tracks are where you pay for your mistakes. I haven't driven here so I cannot say. I'm a big fan of street circuits so you can imagine the more run-off area you give me, the less I like it. But they are safer, so you have to find the best balance. Everything is nice until there's accidents. Once there's an accident you prefer to have more run-off area, so that's why I'm saying the balance is the most important thing.
Q. What is your feeling knowing that your current team may not be in F1 next year?
RK: For sure I'm concentrating on the race, but knowing that the situation for many people in the team... That's why I say I'm very happy to be well placed for the future, because I understand that most of the people their future is still uncertain. For sure it's not nice for them and not nice for me, because I have worked with them for four years with the same people, so your relationship gets closer.
You'd like to see them on the grid. I hope we will see them on the grid. Maybe not all of them because even if the Sauber team continues there will be not as many people as we have now. But I hope they will continue and I hope all the people working at BMW Sauber they will get a job they like.
Q. What would you like Jean Todt to do for F1 as FIA president?
RK: To be honest, I don't know exactly what's the president's job for Formula 1, so it's difficult to talk about something I don't know. I believe he will do a good job for general motorsport, because we are talking here about Formula 1, but motorsport is not only Formula 1. Motorsport is much bigger than Formula 1, and a lot of people is this paddock are forgetting the lower categories. But I believe he will do a good job.
Q. You are a big rally fan. Sebastien Loeb was hoping to race here, but it wasn't possible. Would you like to see him in F1?
RK: First of all congratulations for another world championship for him. It was a close battle. I think it would not be easy for him. I think it would be a very nice challenge, and a nice opportunity, because if I was asked to do the opposite I would enjoy it. Of course I wouldn't go there to compete at the top.
He knew he would not compete to win, that's for sure. His approach would be the same as if I do rallying: just enjoy it, take it as a nice challenge and try to do your best, but without any targets. I believe he would struggle because racing is different than rallying, but it'd be the same if an F1 driver goes to rallying.