Todt wants harmony with F1's teams
| | |
| --- | --- |
| By Simon Strang and Michele Lostia | Sunday, October 25th 2009, 13:43 GMT |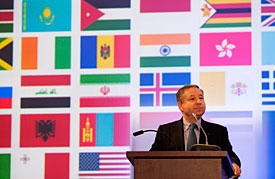 Newly-elected FIA president Jean Todt says that he intends to work towards a harmonious relationship between the governing body and Formula 1's teams, but warned that they must drive down the cost of competing in the sport.
Todt, who replaces Max Mosley after his 16 years in power, landed an overwhelming victory over Ari Vatanen in Friday's FIA presidential election.
"It will be a harmonious relationship," the former Ferrari team principal told Italian newspaper Gazzetta dello Sport, when asked about how he will work with FOTA. "That's necessary to improve everything.
"It will also be necessary to reduce costs: considering the time we live in, carrying on at these levels is absurd."
Todt added that he did not intend to instigate sweeping changes in the way the FIA is run, but said that his methods of governing would be different from Mosley's.
"I'm against who said we must change it at all cost," he said. "Not everything needs to be binned. We need constructive change. What was true ten years ago isn't true anymore now, for both road mobility and for the sport.
"I feel affection for Mosley, but we are different in our culture, studies, and nationalities. There are many things I see differently from him.
"I, as president, have to be content with indicating the path while being less present," he added, speaking of the role of commissioners to oversee individual areas of motorsport.
Asked about what new technologies he would like to see introduced into F1, Todt replied: "Mosley was right in defending KERS. The constructors will have to work hard to reduce the impact on the environment. They can't keep their eyes shut anymore."
Todt also said that Ferrari would be expected to tow the line along with all of F1 teams, despite revealing that he still considered himself a close friend of the Italian team's president Luca di Montezemolo.
"Our relationship will be excellent," said Todt, referring to speculation that the pair had fallen out. "I was sorry to read that my bond with Montezemolo has turned sour. That's all bullshit.
"In fact, the night before the election he sent me a very nice text message. I will never forget the 16 years spent in Maranello. But, even though it's the most famous and powerful team in F1, it will have to respect the rules."