Q & A with Fernando Alonso
| | |
| --- | --- |
| By Jonathan Noble | Thursday, October 15th 2009, 18:43 GMT |
Q. Did the psychological warfare with Felipe Massa start yesterday, judging by his comments regarding Singapore last year?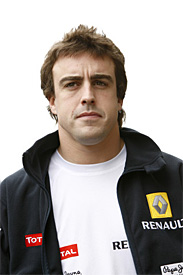 Fernando Alonso: No. I don't think so. I think first of all, I don't know what is true or not - maybe it was a misunderstanding with Felipe or the media or whatever. So it is difficult to know what is true and what is not true about what he said. Later he said a different thing. It is not very important for me, and I was not too worried.
In the World Council it was clear in the statement that I was nothing to do with the Singapore 2008 [events], I was not involved in anything and I did not know anything. There is no doubt from that point on. I didn't pay too much attention.
Q. But it doesn't say much about your relationship does it, if your future team-mate accuses you of cheating?
FA: Again, as I said, maybe it was not true [what he said]. It will not affect anything on me or our relationship. I still think that it will be great because in Ferrari, the group is more important than the individual – all the mechanics, the engineers, the people in the factory, the drivers, Stefano [Domenicali], President Montezemolo, and everyone is part of the team – a big family. I think it will be a good group and we will be a very strong team next year Felipe and me. Now that he is recovering well after the test in Italy this week, I think that is a very good news for the team next year.
Q. Felipe Massa will be here tomorrow. Are you likely to have a chat with him to make sure there is no problem between you?
FA: Maybe we will have a chat, but I am sure it will not be about this matter. If we have chat it will be more about his recovery, that it seems well, and his experience in Ferrari. He has been there three or four years – I need to learn and to take this experience that he had at the beginning to adapt myself a little bit quicker if it is possible. So anything I speak with Felipe in these days and in the future will be a help to me to know the team – and we are working only with one goal next year, to put Ferrari on top of F1. I think Felipe and me can do it.
Q. How would you describe your relationship with Felipe?
FA: Well, I think it is good. There is nothing wrong with him. We fight a few times on the track, as we did in Barcelona in 2007 and the Nurburgring in 2007 as well. But then, last year I think we built a good relationship, a friendly relationship, I was supporting him in the last part of the championship because I really thought that Felipe had a chance to win the championship. In the end he didn't, and I am sure it will be okay – a good relationship like with any other driver.
Q. Do you support any of the drivers this year?
FA: No, I think this year to be honest Jenson is the big favourite to me. He is 14 points ahead with two races remaining – I cannot see really how Jenson can lose this one. I think Jenson can become champion, even this weekend.
Q. But in 2007 you and Lewis battled each other and Kimi took the championship? Can Sebastian do it?
FA: Well, anything can happen in Formula 1. That is the good thing about the sport. Until the chequered flag, you cannot really say anything. Sebastian will push until the last opportunity. I am sure that Rubens will do as well, at least here in Brazil it will be nice for him to win the race. But Jenson, again, with 14 points, finishing the two races in a good place will be enough. It will be interesting anyway because here in Brazil we saw a lot of nice races – it is never a boring race here. You always have action here, the weather forecast changing every 15 minutes, so we will have a very interesting weekend on the track I think.
Q. You say you want to finish your career at Ferrari, but Kimi had similar thoughts – and even a contract for next year – and he has gone. Are you worried you won't have a long term future there?
FA: I am not worried now. I didn't arrive there yet, so there is no time to think that I will leave. Hopefully I can do many years there, and that is my intention. You never know in F1, but I will do my best to work as professional as I can – to work with the team, so they are happy with me and I can keep going.
Q. What will be the key for Jenson regarding the championship? Is it dangerous to just go for points?
FA: Yes. It is not ideal. Obviously you need to approach the race as if it was a normal race. If you start thinking that you need maybe three points here and three in Abu Dhabi, that is maybe dangerous. I am sure he will do his best, and if it is raining as it may rain tomorrow and Saturday, then I think Jenson is a very good driver in wet conditions. So he could do a good grid position and starting from there the race will be good, I am sure. Red Bull and Brawn will be the two most competitive cars here, so there is a chance of a podium for Jenson that will be enough for the championship. Everything is looking good for him.
Q. Will you attack any of the title-fighting drivers if you have the chance to overtake?
FA: Unfortunately maybe we are not in that position to attack any of the frontrunners. If we are there we will do our race, but it is true now with the three contenders you take a little bit care, because you don't want to do anything that could change the result of the championship.