Howett: Results not key to Toyota future
| | |
| --- | --- |
| By Jonathan Noble and Matt Beer | Wednesday, October 7th 2009, 11:06 GMT |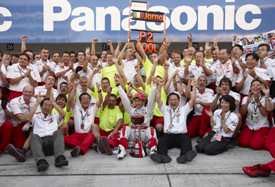 Toyota team boss John Howett says his squad's long-term Formula 1 future depends on the parent company's finances and its view of F1's image rather than its achievements on track.
Timo Glock and Jarno Trulli's back to back second places in Singapore and Japan have brought Toyota back into contention for third in the constructors' championship after a long fallow period, and at a time when doubts over the company's F1 commitment remain.
Howett acknowledged that the recent results were very welcome, but said that the team's form was only a side issue in any debates over Toyota's F1 presence.
"It always helps, doesn't it? But I can't say that it is really the fundamental issue," he replied when asked if the podiums would help the team's future.
"I think it is still all down to Toyota's overall profit and loss situation and the image of Formula 1 and whether we can get away from the rather sordid side that we've had recently to a much more dynamic future looking at all the great things that this sport really has.
"Talking to my colleagues, it's a similar problem everywhere. That's the biggest challenge we face."
Toyota's future is regarded as less certain than others teams' because it will not confirm its 2010 F1 plans until after a board meeting on 15 November. Howett is confident that the team will be on the grid next season, and does not think Toyota's situation is that different to any other team in the current economic climate.
"To be honest I think there are other teams that may also ... in life you can never say never," he said. "But the reality is that I'm sure that we will be grid next year."
Howett also reiterated that recent results would not necessarily influence Toyota's driver decisions, with the team having made it clear that it could replace both Trulli and Glock.
The team boss was pleased with Trulli's performance at Suzuka, but said there had been other podium opportunities that were not taken, and that Toyota would make its decision based on the drivers' total achievements for Toyota rather than current form.
"You have to look over five years [since Trulli joined Toyota]," said Howett. "I don't wish to be tough but we had a more competitive position leading the start of Spa, and we didn't deliver.
"So I think you have to respect the fact - and I am not trying to knock Jarno, because he is a great person and what he does for the earthquake victims... there are so many strong qualities.
"But still unfortunately as a team this sport is intensely competitive and we have to find the best opportunity to win."