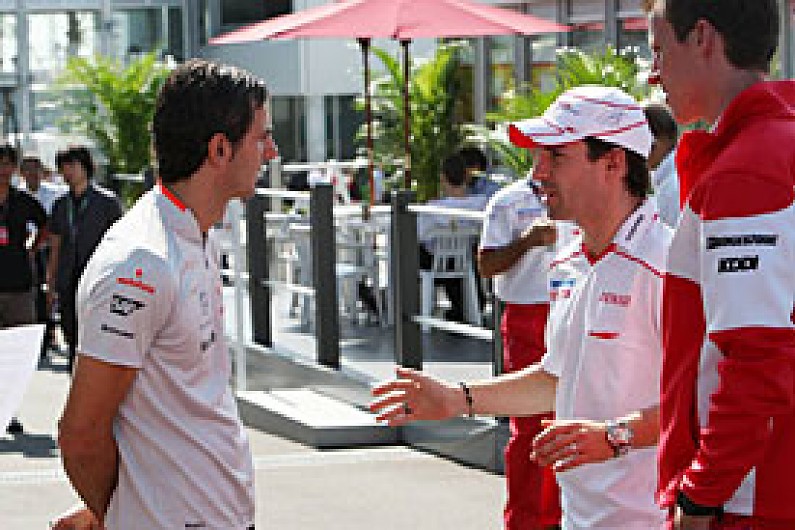 Timo Glock was back in the Suzuka paddock on Sunday morning, having been airlifted to hospital less than 24 hours earlier after his massive qualifying shunt.
And while the 27-year-old German is confident the nasty gash on his left leg will heal quickly, it won't happen fast enough for him to be able to race in Japan.
The Toyota driver sat down with journalists this morning, including AUTOSPORT, ahead of a race he will have to watch from the sidelines, and explained what happened in the crash and why he will be back for Brazil.
Q. So how is your leg? And where is the cut?
Timo Glock: The cut is exactly across the back of my leg, behind the knee. It is six centimetres long. It was across the leg, which is the main problem, as it was quite open. It is also quite deep, so overall I am lucky that there was no damage to muscles or ligaments. They just closed it with 14 stitches and that is it.

At the end of the day we tried everything overnight, in terms of physiotherapy to get it more flexible, but the problem is that I cannot just stretch it completely due to the cut and the stitches. In the end we worked until 2am tonight, and my physio did quite a nice job. But in the end, it is not possible to drive. We tried everything and the mechanics tried to fix the car. They were ready, they did a very nice job, but in the end it was not possible.

Q. What caused the accident?
TG: It was just a mistake on my side. I had a bit of oversteer out of the last chicane and tried to take as much speed as possible out of the last corner. I opened the steering wheel, because I saw I was on a good time for Q2, and I just opened the steering wheel and at the last moment tried to turn back again. Then I misjudged around 50 centimetres - I thought I was half a metre to the right, but I wasn't. Then I just touched the grass slightly with the front left wheel and then the car just took off and I had no chance.
Q. There were some rumours that you had a problem with the steering wheel?
TG: No, no. That is wrong. Everything on the car was okay, 100 percent, unfortunately it was my mistake.

Q. How long is the estimated recovery time? Will you be fine for Brazil?
TG: Yes, it should be quite easy for Brazil. The problem at the moment is that I don't have pain when I put pressure on the leg. It is the cut that does not give me the flexibility I need, and I think in two or three days it already should be a big step. Already from yesterday, I could not walk. Today I can walk. So in two or three days it should be much better, and in 10 days it should be okay. So Brazil should not be a problem.

Q. If you look at the television pictures, it seems for a minute that you were looking down in the cockpit. Was that the case?
TG: No, no, no. There was nothing.

Q. Needing 14 stitches sounds like a deep cut. What caused it?
TG: The section of the front wing is out of aluminium, and for some reason it found a way to get into my monocoque through the top, and hit my leg.

Q. What do you make of your bizarre weekend - Thursday all okay, Friday ill, Saturday in hospital and Sunday not able to race?
TG: I would say not my weekend. I cannot find a way to have two weekends in a row where everything goes right. It is a bit of a shame that after Singapore I cannot race here. It would have been great in front of all the Japanese fans. We had a good car here. Jarno is in P2 and I was quite happy with the car as well. It was a shame that we cannot race. At the end, that is how it is.

Q. How is your back, because yesterday you were complaining?
TG: The muscles are a bit tight today. It is okay, not a problem.

Q. Was there any chance for you, once you were on the grass, to decelerate?
TG: No. Nothing. I saw the onboard just half an hour ago and it shows that the tyre barrier was a bit strange. It was behind my helmet, and I think this is something that we have to think about - about the safety. That was quite a strange one.

Q. What do you think about general safety standards here? There have been a lot of accidents this weekend?
TG: The circuit is really, really quick. And if you do one mistake - this circuit shows how quick a Formula 1 car drives around a corner. And if something goes wrong the impact is big. The cars are so safe. We had a lot of accidents yesterday, and I think everybody apart from me was okay. I think the safety standard is still high, but there are no reasons to rest on this. Every time there is room for improvement. You can see on my injury, that we have to every time think about the safety - and that the tyre wall just came so far into the cockpit is something to think about.

Q. What speed did you have in this corner when you left the track?
TG: 200 km/h. 220 km/h.

Q. And the impact?
TG: 200 km/h I think. Somebody said 225 km/h, but I don't think that is right.

Q. When did you realise you had an injury in the car?
TG: In the very first moment when I threw the steering wheel out, it was just a reaction. My mechanics told me before not to throw the steering wheel around because we only have two! So they were not happy about it. In the end it was just a reaction, then in that moment I looked down to my legs and saw this piece of aluminium in the cockpit and then I just hoped the leg was okay. In the first moment I did not feel anything, but then I moved the leg and it was okay - so at least I could feel everything. But then I tried to get out, and again I looked at my leg, and I saw my overall, which was already coloured, changed from white to red. So, I decided to stay in the car and wait until the doctors were there.
New season.
New rules.
New cars.
New drivers.
Get ready for an F1 season like no other with unlimited access to the world's best motorsport journalism.
Get 10 free extra stories
Upgrade for free - and boost your monthly news limit instantly.
Register for free
Expert opinion.
Technical insight.
Unbeatable analysis.