Vettel out to keep title hopes alive
| | |
| --- | --- |
| By Jonathan Noble and Pablo Elizalde | Saturday, October 3rd 2009, 06:59 GMT |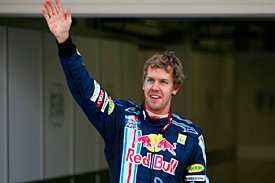 Sebastian Vettel is aiming to keep his championship chances alive after grabbing pole position for the Japanese Grand Prix.
The Red Bull driver is 25 points behind championship leader Jenson Button with just three races left, meaning Vettel needs to outscore the Briton by six points on Sunday if he wants to stay in the hunt.
Button qualified down in seventh place, but his position is in doubt after he clearly set his best Q2 time when the yellow flags were out.
Button and five other drivers have been summoned to see the race stewards.
Vettel, who scored his fourth pole of the season, is now looking to maximise his opportunity.
"There's three races to go and it's quite a big gap so every race has to be a chance if you still want to keep our chances alive," said Vettel. "We came here to race and we want to win. I think we are in the best position for tomorrow's race.
"It is a long race, obviously tough for the tyres and I think really tough for the drivers. We have to keep the concentration up especially in the Esses, I think there are physics and some rules but it's amazing how quick you can go with car.
"It is fantastic when the car is empty, you wish to keep going for another lap. It is a long race and we have a very, very good chance, also looking at the championships."
Vettel admitted it was hard to predict how strong his team will be, but said it was not too surprising to be on pole.
"We expected to be competitive, but we did not know how competitive," said the German. "I think also looking at Q1 it is so tight, you see different cars on top and back in the midfield, therefore we could not expect to be on pole.
"We expected to be strong and luckily we were right, being fastest in Q1, Q2 and Q3 was great. It's a shame for Mark, he did not crash hard in Turn 9 but had a problem with the car so they could not fix it and he missed the session, otherwise he would have been on top."