Q & A with John Howett
| | |
| --- | --- |
| By Jonathan Noble | Friday, October 2nd 2009, 03:32 GMT |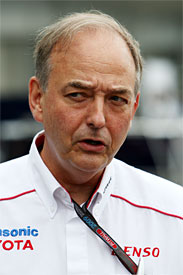 Q: There were some reports based on some quotes from Tadashi Yamashina earlier this week suggesting that Toyota could pull out of Formula 1 - which goes against what the team has been saying for the last few weeks. Can you clarify what the situation is regarding the future of the team?
John Howett: I spoke to Yamashina-san this morning, and he said all the Japanese newspapers were correct. But one Japanese newspaper, which Reuters picked up, misquoted him.
I think his position is that we should be here until 2012 and I think on the point of giving an absolute guarantee, I think he was just pragmatic in saying that you can never really give that.
There are many more issues rather than budget, or whatever. I think the direction of FOTA is positive, and it is coming to a more sensible cost-balance.
Q: Is it fair to say that the November 15 meeting is to decide the budget level rather than whether or not you participate?
JH: It is the same, normally every year. People say, how can you possibly manage? But that is normal business. I think in every 20 years of business life, people come along and say you need to reduce your budget by 10 percent. We just have to get on with it.
We have got several scenarios planned, and from our perspective we will know exactly at the end of the year - or even early next year - what the final operating budget will be for 2010.
Q: With budgets coming down, is it not more attractive for manufacturers to be in F1 now, than it has been in the past?
JH: I don't think it is the cost issue. For me, the issue is the value. We need to move away from all the rather negative publicity out there, to a much more positive atmosphere - talking about the sport and not the negative side. Providing these things move in a positive direction, I don't think there are any issues.
Q: Have you sought clarification from the Toyota board in Japan about the situation going forward?
JH: That is not my job. That is Yamashina-san's job. We have a board meeting, we request the money annually, and they have a number of meetings, and finally in November they approve the global motorsport budget. It is not only F1, it is NASCAR, Formula Nippon, Japanese GP, F3, everything. It is normal procedure.
Q: And the team planning for next year, is everything going according to plan?
JH: Yes, as normal. We've been here this week, talking mainly about the 2010 car. We have a lot of interested people here who have an opinion and are actually interested in what we are doing. Most of this week we have just had meetings based on the 2010 car.
Q: And if the parent company was even thinking of pulling out, now there would be warning signs, wouldn't there, about not committing to 2010?
JH: I think so, yes, clearly. At the moment we have absolutely no indication at all that that will be the case. We are working flat out.
Q: How does the situation affect your position regarding signing drivers for next year?
JH: Negative publicity is always a problem. It is one of the problems we live with in F1. It is like all the rumours about the FOTA thing, it doesn't help you. We will honestly have to reduce people, but managing it is complex because of all the media.
There are people who are nervous about the fact that in 2011 we will be down to 280 people, and will I be there or not? We are struggling with that in all the teams, because it is not so easy.
Q: Are you worried that with the perceived uncertainty, and the fact that Jarno Trulli and Timo Glock may not be here next year, that you could end up not necessarily with the drivers you are after as a first choice?
JH: The drivers market is a bit like that, I think. I don't think this changes it. We know who we would like in the car and we are working hard on it. But their decision is a holistic decision as well. Will we have a winning car next year?
There are drivers who haven't come here in the past who probably regret their decision. There is always risk and opportunity, and drivers don't always take the right decisions, do they. That is just looking historically over the past five years.
Q: Regarding the option not being taken up on Timo, was that something that came from Toyota, or was that him looking for a chance elsewhere?
JH: I think it is an impetus by the team, I would say. Because we want the options as we think there could be quite a big movement in the drivers market.
I think he did a fantastic job in Singapore and we are talking to him, but honestly speaking we feel that could have been that result in other races if we could qualify in that position. I am sorry, it is a very tough life, and our job is to deliver results.
He could still be in the car next year, but we wanted to keep our options open. And if we didn't release him by a certain date, we would be fixed for 2010.
Q: So it could be a completely new driver line-up next year, then?
JH: Yes. We need to keep all our options open, and to be able to catch somebody if the opportunity comes, we need two seats available. We like Timo very much, he did a great job, but still we have a car that is more regularly of being on the podium and much closer to the top this year. We are not delivering, and there are things beyond the team and the chassis itself.
Q: Earlier this year you said that Jarno Trulli may not be at the team in 2010. Has that hardened up now?
JH: Yeah. I would say it is unlikely that he will be with us next year. That is my genuine feeling. I don't like to say that, because they also have careers, and I think he has done a great job for us. We have tried to find a landing position and so far we haven't. But I think it is very unlikely.
Q: Is there any pressure from Japan to bring in one of Toyota's young drivers, like Kazuki Nakajima?
JH: Basically, I think there is this misunderstanding. Normally we initiate it, or it could be an impression from outside. But 99 percent of the time they support our decision, and we are here to win. They want the best driver combination we can get in the car.
Q: There seems to be an impression that Toyota is clearing the decks, with drivers, engine supply deal...
JH: We are happy to supply Williams, they don't want our engine so we have a binding agreement for next year and they have asked us to release them.
Q: Have they formally asked for a release from the contract, then?
JH: Yes. I think our position is that if they don't want it then fine. We are talking to other people for a supply. I wouldn't say that we are clearing the decks at all. If Williams want the engine, it's still available. But I think now we have separated for various reasons.
Q: How many teams do you think you will supply next year?
JH: I think we are geared up to supply one team. I think beyond that is at this juncture too much, with capital items like blocks and cranks, the lead time doesn't just turn on and off. So we are capable of supplying another team without any problem.
Q: Is that Team US F1?
JH: I'm not prepared to say who it is. We've got more than one team asking for it. Some are unable, I think, without a breach of contract to do that.
Q: The FIA has said that it is open to looking at engine re-equalisation if the teams agree it is necessary. Do you think the matter needs investigating?
JH: I think, my understanding is that when the freeze came in, the danger is you freeze in the differences. But I think if those differences grow over time, beyond a rate that one would expect from I would say routine development, there needs to be a transparent discussion.
I think all we are asking for is more clarity as to where the disparities are, and whether they are accepted to be reasonable or not. If it's clear they are, then we need to work harder - but we are pushing fuel and oil very hard and it does seem that there are three engines that are very similar and one that is perhaps slightly out of line with those. So we are interested to just understand that through the engine working group.
Q: Would you consider bringing a complete rookie in for 2010?
JH: The problem I think at the moment is that there aren't that many exciting-looking rookies around. If you could find the next Lewis [Hamilton] you would be up for it. It's worth the risk if we can get another strong driver in the car. To be honest, looking around with the limited testing, it's difficult to really understand who you would take.
Q: So on the driver front, it is a question of who is out there?
JH: We are talking to quite a few people and we are working hard, and hopefully at least one we will definitely secure.
Q: Is Kimi Raikkonen a target?
JH: We have always expressed interest in Kimi.
Q: It seems that with budgets coming down, are salaries also coming down?
JH: My understanding is that there are quite a number of them who do understand, and maybe one or two who don't. But the majority do.
Q: Are you confident you have the platform that one of these megastars will take the decision to join you?
JH: I think personally that they would be stupid not to. We have got a lot of inertia. I think there is a lot of uncertainty about a lot of teams, to be honest. We seem to be the focus of everybody's attention, but to be blunt there are a lot of teams that on the inside we hear rumours of that are more severe than our condition.
I think we have had a fairly competitive car, we seem to be constantly coming. I think the drivers also can see when they are driving around the circuit as well how the cars work and the relative differences. I think there should be at least one or two seriously interested to come.
Q: You talked earlier this year about the kind of spirit that champions show, referring to Roger Federer's victory at Wimbledon. It that what Toyota is after?
JH: That's what you need in a driver. You win on the tiebreak at the end of the set, and that's where great players, when they are not really having a great day, still win matches.
That's really what we need, I think. We have a car this year definitely capable of finishing on the podium at a large number of races, at fast circuits and slow circuits. But we've still got work to do internally. We can't also say that we can't do better, but I would think next year's car will be very strong.