| | |
| --- | --- |
| Stoner: Illness never threatened career | |
| | |
| --- | --- |
| By Toby Moody and Matt Beer | Thursday, October 1st 2009, 17:26 GMT |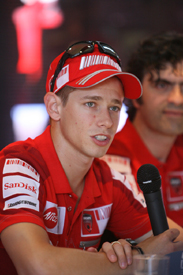 Casey Stoner has dismissed any suggestion that his recent illness had jeopardised his MotoGP career, and says he always intended to return for Estoril.
The former world champion had been struggling with a debilitating condition since the Catalunya Grand Prix in June, and with the symptoms not relenting and doctors still struggling to diagnose it, he opted to sit out the Brno, Indianapolis and Misano races before returning in Portugal this weekend.
During that period there were feverish speculation about his future, but Stoner hit out at the rumours as he addressed the media at Estoril today.
"There were never going to be any more than three races away, and already for me that was a really tough decision," he said. "It wasn't something that I was forced into, it was just recommended by everyone.
"There have been a lot of funny rumours of all sorts of things, which have been quite enjoyable to read about - especially the one about me retiring.
"But we had always planned on taking only three races off, it was never going to be longer. We were just going to take these three races off to get as much medical advice as possible and try to come back stronger than we had been before because I just wasn't competitive enough.
"I had to be away from the sport and sort things out on my own. I was always going to come back, it's just everybody started to think that I'd disappeared forever.
"There have been no problems with Ducati whatsoever. There have been all kinds of rumours, but I thought people would know by now the kind of relationship I have with Ducati and not to let it get into their heads.
"After one weekend of me being gone, I think it was quite immature of everybody to start spreading rumours so quickly. I heard on day three of Brno that I was retiring. I don't know who started that, but that's impressive, that didn't take long.
"It must be fun for somebody to start these things, but I've already got my contract with Ducati. They know I'm happy here. I know they're happy with the work I'm doing."
Stoner said he could not make any predictions about how he would fare this weekend yet.
"It's guaranteed I'm going to be tired, no matter what," he said. "Whether I have the same situation or I'm in better shape, I haven't been on a bike for nine weeks. It's going to be tough. My muscles aren't going to be ready for it. But if everything goes to plan, I'm going to be in better and better shape as the weekend goes on.
"I'm 90 per cent sure that I won't have lost any of my speed. I'll be back the same as I was at the last race.
"If on Saturday afternoon I'm feeling like I did at the last races, then the position I'd be happy with changes. If I'm feeling good on Saturday night then I'm going to want the best position I can get. I'm not going to give myself any excuses. I want to go out there and try and win. If it's not possible, then it's not, but I'm going to give it 100 per cent."
He also played down theories that his condition had been caused by pressure and stress rather than any physical issue.
"It's definitely not a problem of pressure," Stoner insisted. "I thought it was a bigger issue and that maybe I was putting too much pressure on myself, but since I've been back and I had an enjoyable time without worrying about anything, I realised that isn't the problem I have, and that there's something much deeper and medical that we need to solve.
"Normally during the weekend when I have these issues I become stressed at the fact that there doesn't seem to be anything that fixes it.
"Without the pressure I put on myself, I wouldn't be anywhere near the rider I am today, so I think I require it. I think that's what makes me competitive - the fact that I want to improve all the time and do everything I can.
"Even up until Catalunya, I was happy. The bike was getting better and better race by race. Finally at the moment when the bike was really competitive, I wasn't. I think there's something a lot deeper to this than just mental pressure."