Todt: FIA and teams need fresh start
| | |
| --- | --- |
| By Jonathan Noble | Saturday, September 26th 2009, 11:43 GMT |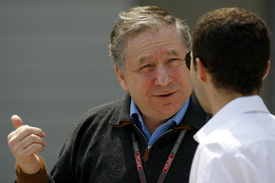 Jean Todt believes the FIA should be ready to start with a 'clean sheet of paper' in its relationship with Formula 1 teams if he is elected as president of the governing body.
The former Ferrari boss is making his first appearance at an F1 race since announcing his candidacy in Singapore this weekend, and has met with teams and drivers to discuss his plans for the future.
Following talks with the Formula One Teams' Association (FOTA) and the Grand Prix Drivers' Association (GPDA), Todt believes it is time for the FIA to have a new approach in its dealings with motor racing's premier category.
He is adamant that the loyalty he had to Ferrari in his previous job will have no impact on the way he will run the governing body if he beats Ari Vatanen in the October 23rd election, but says it would be wrong to totally overhaul the FIA.
"It's something I mentioned to the FOTA meeting - if I am elected as the president of the FIA I will come with fresh ideas," he told AUTOSPORT in Singapore.
"I am ready to start from a white sheet of paper at all levels. I will forget that I had a problem with a team because it would be inappropriate. So starting from a white piece of paper, if some people are now involved in the administration of the FIA [it's because they are] they are good, I can only respect them.
"If I feel that some people are not appropriate or should be put in another position it is something I will discuss with the team. And it needs to be reinforced.
"This part is exactly like when I arrived at Ferrari. At Ferrari everyone was not fired. Some people were fantastic, some people were moved in other directions, some people were helped because they needed support and some people were taken."
Todt has admitted that some team principals remain sceptical about his past loyalties not having an influence, but says he is prepared to make the effort to show what he stands for now.
"In life, you always have to prove something. That's the challenge of life," he said. "If you think you are fantastic you will not be good, but if you think you have to prove something that is the fascinating thing in life.
"If you wake up and you don't have to prove anything, you are close to the end. I have a very good feeling with them. I enjoyed meeting them. We had a good discussion, a sensible discussion."
Todt has said he decided to put himself forward for the role of FIA president because he is keen to give something back to motorsport.
"For many years, I have always had very good contact with Max Mosley, not that I always agree with him but I had good contact with him, and I very often agree with him as well," he explained. "He said you would be the ideal candidate, and I thank him for that.
"When he made his decision, we spoke again about it and in a way I felt a responsibility towards my passion. I think with a good group of people - not alone – I can do a good job.
"I am not a fanatic of politics, but I am a fanatic of cars. I am a fanatic of management. I always said what I do prefer and what is for me the most fascinating thing in life is human beings. Because a human being, each man and woman, is different and it's very strong when you try to analyse people, to understand, and I liked being a leader. I like being a manager.
"I like to give visibility to the people which is what I always did and I like to be surrounded with the best people too together to work something. I think that the FIA can give me this opportunity."
Todt believes the period of the next term of FIA president will witness big changes both in the automotive and motor racing sectors.
"Something has to happen," he said. "It would be presumptuous on my side to tell you how radical it will be, but it has to be radical. To guess what we'll be racing you have to see 10 years behind what it was on the costs, the technical and the show.
"For me it's fantastic to see the attraction to the public, to the media of F1 but something has to be done because you hear a lot of people who are not happy anymore. Overtaking will always be a difficult problem in F1 unless you use some artificial means.
"Normally you have people who fight for two days to put the quickest car in front and it's difficult to expect a lot of overtaking and the situation with no refuelling will make the situation a bit different. But overtaking, not simply in F1, you take those cars I'm sure overtaking is not so easy either. Overtaking on two wheels is much easier."
Todt has also said he is not worried that some fans have been sceptical about him on the back of his involvement in controversies like the imposition of team orders at the 2002 Austrian Grand Prix.
"You know, I heard that maybe in England," he explained. "In Germany, by far I rank number one, in Italy I rank number one. It depends on the country.
"I think in F1 Racing I was nominated team principal of the year six times in eight years. So I did not make any interviews, people have not read any comment of myself for a long time. In fact when I started interviews again two days ago it was almost one year.
"Honestly, you always prefer to be number one best loved guy, but I have good support from the clubs and they understand that on top of the FIA you need someone strong, a hard worker, a team member and somebody who will deliver what he promises."
When asked how confident he felt for next month's election, he said: "It's going very well. I have a lot of support from the people who are voting and support from people who are not voting.
"In our team, we have put powerful people who I am very pleased have accepted to be involved. These are people who have been there for many years, who have proved that they are very good, who are willing to work and are motivated."