Peugeot dominates first practice
| | |
| --- | --- |
| By Matt Beer | Thursday, September 24th 2009, 15:18 GMT |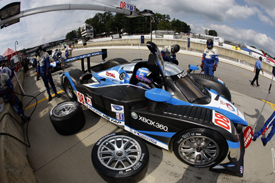 Peugeot took a one-two in Thursday morning practice as the 2009 Petit Le Mans weekend got underway at Road Atlanta.
Stephane Sarrazin's early 1m08.138s run in the car he shares with Franck Montagny proved unbeatable, and for much of the hour that time put the French duo well over a second clear of the field.
The sister #07 car of Pedro Lamy and Nicolas Minassian eventually recovered to second - having caused a long red flag halt when it stopped on track on only its fourth lap and had to be recovered to the pits.
Scott Dixon won a very close battle with the two Audis to put the De Ferran Acura in third place, a second behind Sarrazin's time but within a tenth of Lamy and Minassian.
Audi changed the #1 car's chassis overnight as a precaution following Lucas Luhr's off-course excursion in yesterday's test. The German was fourth this morning ahead of team-mate Dindo Capello.
ORECA's Romain Dumas shrugged off an early spin to take sixth ahead of the LMP1 championship leading Highcroft Acura.
Guy Smith topped LMP2 for Dyson ahead of the Fernandez Acura. The second Dyson Lola-Mazda sat out the session following an engine issue yesterday.
BMW remained in control of GT2, with Dirk Muller topping the class by half a second - the same margin that covered the next seven cars.
The session passed with relatively little incident, but did come to an end a few seconds early so that the Eco Radical could be towed back after stopping on the circuit.
Pos  Drivers                     Cl   Car             Time
 1.  Sarrazin/Montagny           P1   Peugeot         1m08.138s
 2.  Minassian/Lamy              P1   Peugeot         1m09.042s
 3.  De Ferran/Pagenaud/Dixon    P1   Acura           1m09.235s
 4.  Luhr/Werner                 P1   Audi            1m09.290s
 5.  Capello/McNish              P1   Audi            1m09.351s
 6.  Panis/Lapierre/Dumas        P1   ORECA           1m10.319s
 7.  Brabham/Sharp/Franchitti    P1   Acura           1m10.380s
 8.  Field/Field                 P1   Lola            1m10.403s
 9.  Dyson/Smith                 P2   Lola-Mazda      1m11.609s
10.  Fernandez/Diaz              P2   Acura           1m11.974s
11.  Pickett/Graf/Maassen        P2   Porsche         1m12.669s
12.  Drayson/Cocker/Bell         P1   Lola            1m12.799s
13.  Burgess/McMurry/Willman     P1   Lola            1m13.542s
14.  Muller/Milner/Muller        GT2  BMW             1m20.975s
15.  Bergmeister/Long/Lieb       GT2  Porsche         1m21.498s
16.  Melo/Kaffer/Salo            GT2  Ferrari         1m21.595s
17.  Hand/Auberlen/Priaulx       GT2  BMW             1m21.610s
18.  Magnussen/O'Connell/Garcia  GT2  Corvette        1m21.645s
19.  Farnbacher/James            GT2  Panoz           1m21.713s
20.  Sutherland/Drissi/Bell      GT2  Riley Corvette  1m21.864s
21.  Henzler/Werner              GT2  Porsche         1m21.933s
22.  Murry/Robertson/Robertson   GT2  Doran Ford      1m22.422s
23.  Beretta/Gavin/Fassler       GT2  Corvette        1m22.698s
24.  Sellers/Cicero              GT2  Porsche         1m22.834s
25.  Feinberg/Hall               GT2  Dodge           1m22.844s
26.  Law/van Overbeek/Neiman     GT2  Porsche         1m23.049s
27.  Noda/Balbiani/von Moltke    P1   Radical         1m25.541s