Q & A with Heikki Kovalainen
| | |
| --- | --- |
| By Jonathan Noble | Thursday, September 24th 2009, 13:05 GMT |
Q. Flavio Briatore was your manager. What are the consequences for you now that he's not allowed in F1 anymore?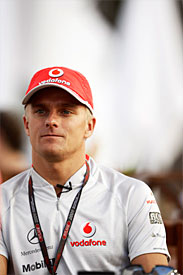 Heikki Kovalainen: Of course it's a little bit of an unusual situation and something that I certainly did not expect to happen, but obviously I will have to comply with the FIA. Apart from that, we are here this weekend to race and we focus on racing.
Q. Do you think the decision was too hard on Flavio and not enough on Renault?
HK: The FIA made a decision and I have nothing more to say. We need to move on and focus on racing again.
Q. Flavio was a special character, do you think Formula 1 will miss him?
HK: I don't know. People have different opinions. We'll see.
Q. How do you expect the car to perform this weekend?
HK: I think we should be competitive. We have a decent upgrade in the car. We have a new floor and a front wing and then some small aero bits, so we should have more downforce in the car. This should be one of the better weekends. We have been pretty good in other types of circuits like Monza, and even at Spa I think the performance of the car in qualifying was not so bad. So I think it's a decent, all-round package that we have now.
Q. Are you impressed by the turnaround considering the poor start of the season?
HK: Yeah, for sure. It's been very impressive, and a lot of hard work has been done by the team. Obviously first we needed to analyse what the problem was. We knew early on about the aerodynamic problem that we had in the car and that somehow the package was not delivering what it should do.
It took us a little while, but then for Lewis in Nurburgring and for myself in Hungary the package that we got was a different philosophy. Straight away the front of the car started to work better and the rear also. And since then we have been putting more performance into the car and it's been very impressive.
Q. What do you think of the new pit entry and the chicane?
HK: I think they look okay. I don't think they will be any problem. Last year the pit entry itself was a little bit tricky but that has been sorted as well, so the cars should not be travelling at such different speeds now. That's the most important thing, that's better now.
Q. You had a difficult time at Renault and you were under pressure. What would your reaction have been if Flavio had asked you to crash to help the team?
HK: I would never do it, but I was never asked that kind of question.
Q. Did you speak to Flavio after the verdict?
HK: Not yet. Myself and Lewis have been pretty busy so I haven't actually had a chance to talk to him.
Q. Is it frustrating that you have been dragged into it?
HK: There's nothing I could have done about it, so I have to go on accordingly.
Q. Have you been surprised?
HK: Everybody has been surprised about the whole scandal. I don't think it's very normal to have these kind of incidents in Formula 1. I think it's unusual. In my opinion Formula 1 is still a fair sport and if you do something bad you will always be caught.
Q. You said you wouldn't do it, but can you understand another driver doing it?
HK: For me this is a separate issue and I don't want to drag myself into it too much. But I certainly wouldn't do it.
Q. But you know Flavio puts a lot of pressure on his drivers.
HK: If he had asked me to crash the car I would definitely had said no. But like I said, I never had a problem like that.
Q. Are you happy with your form?
HK: I think in Monza the result could have been better. I think it was quite clear that the beginning of the race was a disaster for me. In the first two, three laps I lost the whole race, and I struggled to get the tyres going so I think it was probably the wrong decision. But it happens. It was partly my decision. I thought it was the right thing to do and I was convinced I would be fighting for victory.
The qualifying has always been good and I think the race performance in Valencia, apart from the last stint and both stints at Spa, were very strong. So I'm pleased about the performance and of course I want to win a race this year, that's my target and we try to do this again this weekend again.
Q. In February Ron Dennis said you would be the surprise of the season. You think you made it?
HK: I don't think at that point we were thinking of qualifying 14th or 16th in Melbourne. We were thinking to be on pole position. My performance has been relatively good compared to last year. I'm driving better than last year. My performance compared to Lewis has been stronger than last year, but unfortunately you don't see it when you are driving in 14th.
I feel now that we have a car with which we can achieve good results I'm fully focused on doing that. I want to get a good result for the team. If you asked me this question three races later hopefully I can say that yes.
Q. Do you think you've reached the level of performance of Lewis?
HK: I think so, yeah. I think in the last few races the performance has been really strong, but there's been incidents every time slowing me down at various points in the races. But I think the performance is good enough. It can always be better and Lewis is a tough team-mate, but I have no problems and I'm never worried about having a tough team-mate. It's always good and when I manage to beat him I'm normally very near to the top of the grid.