Kubica surprised by Piquet immunity
| | |
| --- | --- |
| By Jonathan Noble and Pablo Elizalde | Thursday, September 24th 2009, 10:11 GMT |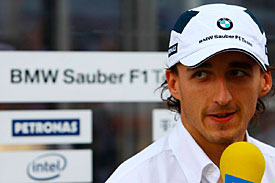 BMW Sauber driver Robert Kubica admits he was surprised Nelson Piquet was given immunity by the FIA in the race-fixing scandal.
"Yeah, normally if you go the police and you say you killed someone but you know someone else who killed three people, you will still go to jail," Kubica told reporters in Singapore.
"Maybe you will not have 100 per cent penalty, but you will still have problems. As I said, it's complex."
Former Renault driver Piquet escaped any sanctions by the FIA despite crashing out of the 2008 Singapore Grand Prix on purpose in order to benefit team-mate Fernando Alonso.
Team boss Flavio Briatore was banned from F1 indefinitely and engineering chief Pat Symonds received a five-year ban.
Kubica said Piquet must have been desperate to agree to such tactics, but claimed he would have no problems with the Brazilian returning to F1.
"Whatever, I'm not the boss of this paddock, so he can come in, no problem as a driver," the Pole added. "But you have to be really desperate to do something like this.
"If everything was done on purpose I would jump out of the car on the starting grid. I'd say I'm not racing or I feel bad instead of doing it. I'm surprised. He's an experienced driver, he's done a lot of races and I'm very surprised he made that deal."
Kubica, who had been linked with a move to Renault next year, admitted the exit of Briatore and Symonds might have an influence in his decision.
"Of course somehow I was a bit more interesting about the FIA outcome than normally, because Renault is one of the possible options for me for the future and for sure it's good that they are staying," he said.
"Of course losing two key people will change the situation a bit, but I don't know, we'll see."
He added: "Renault is one of the options, of course. There are other teams where there's an opportunity to race in the future so we will see."
The Pole, whose current team does not have a place on the grid for next year yet, said he has not completely ruled out staying, but admitted the uncertainty about the team's future is making things difficult.
"Sauber is one of the options," he said. "The money is there, so there's everything needed to be on a high level. But on the other hand it's kind of a question mark, because if I decide to be here and then in January I discover we will not be on the grid is a bit difficult."
The FIA announced last week that the Hinwil-based squad had a provisional slot for 2010, pending an agreement to allow 14 teams getting the green light.