Williams facing uncertainty over engine
| | |
| --- | --- |
| By Edd Straw and Pablo Elizalde | Thursday, September 17th 2009, 10:23 GMT |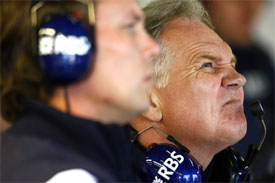 The Williams team is facing uncertainty about its engine supply for next year due to the doubts about Renault's future following the allegations of race-fixing.
"It certainly doesn't make it any easier," said Williams co-owned Patrick Head.
"We're not yet concluded on which engine we will be running next year, but we hope it won't be too much longer," he added.
Williams, currently running Toyota engines, is seeking to end its deal with the Japanese manufacturer a year before the contract ends.
The team from Grove is still considering all possible alternatives, and a deal with Renault was believed to be the most probable option.
However, Renault is facing uncertainty about its future in F1 ahead of the FIA hearing next week following the 2008 Singapore Grand Prix controversy.
Head revealed his team had approached Mercedes-Benz, but the German car maker, already supplying three teams, told Williams the deal was not possible.
"We certainly showed some interest a couple of months ago but we were informed that it was not available to us," Head said.
"It's fairly well known up and down the pitlane that Mercedes, within the limits of what they are allowed to develop, seem to have made more progress than the others at improving their engines. It's now clearly a very good engine."
When asked if Williams's decision to break ranks with FOTA earlier this year have had an effect in Mercedes's refusal to supply engines, Head said: "I'm sure that didn't help."
Head admitted a Cosworth supply was one of the possibilities, and the Briton conceded he is hoping the engine situation is resolved soon.
"Obviously Brawn showed it was possible to install a new engine late, but it's not something that you'd want to impose on your design office and you probably don't optimise the installation if you leave it too late.
"Again, there's quite a lot because of the no refuelling next year with the bigger fuel tank, there's quite a lot of changes."