Barrichello leads Brawn 1-2 at Monza
| | |
| --- | --- |
| By Matt Beer | Sunday, September 13th 2009, 13:25 GMT |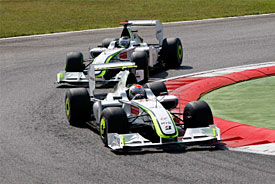 Rubens Barrichello won the Italian Grand Prix for the third time in his career and gave his title hopes a boost in the process, as his team-mate Jenson Button followed him home in a Brawn GP one-two.
Kimi Raikkonen snatched a surprise podium - just ahead of Adrian Sutil - as Lewis Hamilton spun out of third place on the final lap.
Hamilton was unable to make his two-stop strategy work, despite charging away from the field from pole in the opening stint, but was on course for third ahead of Raikkonen and qualifying hero Sutil until his eleventh hour crash at the first Lesmo, which caused the race to finish behind the safety car.
While Brawn celebrated its first one-two since Monaco, its championship rival Red Bull had a disastrous afternoon and scored just one point. Mark Webber's race ended in a first lap tangle with Robert Kubica, and Sebastian Vettel finished a distant eighth.
Hamilton held the lead at the start and briskly pulled away from Raikkonen (Ferrari), who had Sutil glued to his tail - the Force India driver doing well to lose only one place to a KERS car off the line.
The lightly-fuelled top three sprinted clear of Barrichello and Button's Brawns, lapping 0.7-1.0s quicker every time, while Tonio Liuzzi in the second Force India fended off Fernando Alonso's Renault just behind them.
Despite his KERS, Heikki Kovalainen (McLaren) had actually lost ground on the run to the first corner, and was then passed by Button when trying to attack Barrichello further around the lap. Liuzzi and Alonso also passed the McLaren soon after.
By this time Webber's race was already over, the Red Bull having been tapped into a spin by Kubica's BMW at the Roggia chicane on the opening lap, leaving Webber stranded in the gravel. Despite mangling his front wing in this incident, Kubica still managed to overtake Vettel a lap later, but was subsequently given the black and orange flag and ordered to pit for repairs.
Hamilton did his utmost to make his strategy work with a string of early fastest laps. He was leading Raikkonen and Sutil by 7s and the Brawns by 17s when he came in at the end of lap 14, rejoining just ahead of Liuzzi and Alonso.
But now on heavy fuel, he could not match the speed of the flying Brawns, which moved to the front as Raikkonen and Sutil pitted soon afterwards. Button narrowed Barrichello's initial 3s advantage, but was never close enough to challenge, and with the Brazilian running one lap further before his sole stop, Barrichello always looked more likely to emerge victorious.
Hamilton rejoined within range of the Brawns following his final stop and started closing on Button. He had got within 2s of the championship leader when he lost control on the exit of the first Lesmo on the last lap and crashed, coming to rest on the track and causing a last minute safety car.
Sutil hounded Raikkonen throughout the race and ultimately missed out on a podium by just a few fractions. The pair pitted in unison on lap 38, and left in the same formation thanks to equally messy stops - Raikkonen stuttering away from the Ferrari pit and Sutil knocking over some of his crew with a ragged arrival in the pit stall. Raikkonen then again fended off a Force India to the flag, although this time it was for third rather than victory. Liuzzi would have been somewhere near this battle had he not slowed and retired just before half-distance.
Alonso beat a closing Kovalainen to fifth, with Nick Heidfeld doing well to come through to seventh for BMW. Hamilton's crash allowed Vettel to salvage the final point, although he lacked the pace to challenge for more than eighth, and lost further ground with a late trip through the gravel.
Giancarlo Fisichella finished his first grand prix as a Ferrari driver in a lonely ninth.
Further back, the struggling Toyotas provided some late race entertainment as Jarno Trulli bounced off Kazuki Nakajima's Williams at the first chicane, then had a wheel to wheel battle with his team-mate Timo Glock while trying to regain momentum. Nakajima survived for 10th, with Glock securing 11th when Trulli slewed wildly through the gravel as he attempted to find his team-mate off.
PROVISIONAL RACE RESULTS

The Italian Grand Prix
Autodromo di Monza, Italy;
53 laps; 306.720km;
Weather: Sunny.

Classified:

Pos  Driver        Team                      Time
 1.  Barrichello   Brawn-Mercedes        (B)  1h16:21.706
 2.  Button        Brawn-Mercedes        (B)  +     2.866
 3.  Raikkonen     Ferrari               (B)  +    30.664
 4.  Sutil         Force India-Mercedes  (B)  +    31.131
 5.  Alonso        Renault               (B)  +    59.182
 6.  Kovalainen    McLaren-Mercedes      (B)  +  1:00.693
 7.  Heidfeld      BMW Sauber            (B)  +  1:22.412
 8.  Vettel        Red Bull-Renault      (B)  +  1:25.427
 9.  Fisichella    Ferrari               (B)  +  1:26.856
10.  Nakajima      Williams-Toyota       (B)  +  2:00.000
11.  Glock         Toyota                (B)  +  2:43.925
12.  Hamilton      McLaren-Mercedes      (B)  +     1 lap
13.  Buemi         Toro Rosso-Ferrari    (B)  +     1 lap
14.  Trulli        Toyota                (B)  +     1 lap
15.  Grosjean      Renault               (B)  +     1 lap
16.  Rosberg       Williams-Toyota       (B)  +    2 laps

Fastest lap: Sutil, 1:24.739

Not classified/retirements:

Driver        Team                      On lap
Liuzzi        Force India-Mercedes  (B)    23
Alguersuari   Toro Rosso-Ferrari    (B)    20
Kubica        BMW Sauber            (B)    16
Webber        Red Bull-Renault      (B)    1


World Championship standings, round 13:                

Drivers:                    Constructors:             
 1.  Button        80        1.  Brawn-Mercedes        146
 2.  Barrichello   66        2.  Red Bull-Renault      105.5
 3.  Vettel        54        3.  Ferrari                62
 4.  Webber        51.5      4.  McLaren-Mercedes       47
 5.  Raikkonen     40        5.  Toyota                 38.5
 6.  Rosberg       30.5      6.  Williams-Toyota        30.5
 7.  Hamilton      27        7.  BMW Sauber             20
 8.  Trulli        22.5      8.  Renault                20
 9.  Massa         22        9.  Force India-Mercedes   13
10.  Alonso        20       10.  Toro Rosso-Ferrari      5
11.  Kovalainen    20       
12.  Glock         16       
13.  Heidfeld      12       
14.  Kubica         8       
15.  Fisichella     8       
16.  Sutil          5       
17.  Buemi          3       
18.  Bourdais       2       
       
All timing unofficial