Alonso 'surprised' by Singapore row
| | |
| --- | --- |
| By Jonathan Noble and Pablo Elizalde | Thursday, September 10th 2009, 13:42 GMT |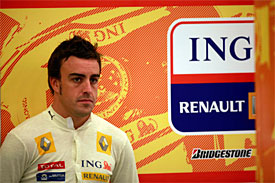 Fernando Alonso says he has been surprised by the events surrounding his Renault team over the last days, but the Spaniard insisted he is only focusing on doing a good job this weekend at Monza.
Alonso's Renault team will have to face the FIA later this month amid accusations of race-fixing strategies at the 2008 Singapore Grand Prix, won by Alonso himself.
The two-time champion, who is still to reveal his plans for next year, admitted he was taken by surprise by the controversy.
"Yeah, of course," he told reporters at Monza. "I'm very surprised. I cannot imagine this situation, so as I said, I'm surprised, and it's time to think in another job, in Monza and the next grand prix because I'm not spending any more time on this."
He added: "I will not comment too much about this, as the team said we will not comment. For me it's not even the time to think or to pay attention to this, because it's difficult to understand for me all this situation and this investigation.
"It's just another day, and I'm trying to prepare the Monza race and trying to get a good result here, so I'm fully concentrated on the job.
"As I said, I will not spend the whole press conference commenting on Singapore, because there is not much to say from me. As I said, I was surprised, but the next step is to think of the next grand prix at Monza and after the hearing everything will be clarified and it will be the time to say something, but now it makes no sense."
When asked if he was aware of the alleged plans by Renault to ask team-mate Nelson Piquet to crash during the Singapore race, Alonso said: "No."
He also insisted the current controversy would not affect he plans for the 2010 season.
"No. No change," he said.
The two-time world champion made it clear he was giving team boss Flavio Briatore his full support.
"Of course, Flavio has been always a nice boss with me. He's a friend, he's a boss. He has supported my career since the times when I was in Minardi. I think Flavio is one of the good people here and he has all my support always."