| | |
| --- | --- |
| Rossi: I've had to raise my game | |
| | |
| --- | --- |
| By Simon Strang and Matt Beer | Wednesday, September 9th 2009, 14:00 GMT |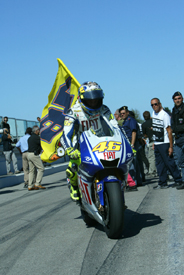 Valentino Rossi says he is riding better now than when he won his first MotoGP titles, and has had to dig deeper than ever to beat his current opposition.
The reigning champion - who currently holds a 30-point lead in this year's championship race - said the emergence of Casey Stoner, Dani Pedrosa and Jorge Lorenzo had forced him to raise his game.
"I think this year the level is incredible," Rossi told AUTOSPORT.com in an exclusive interview.
"It is very high - especially the first four. First four are potentially world champion level. Because me, Lorenzo, Stoner and Pedrosa have enough performance in the throttle and the head to win the MotoGP championship.
"Also the bikes are very fast - Yamaha, Honda and Ducati are very strong - so this creates a high level of championship."
He said Stoner's title-winning performance in 2007 and the challenge from Lorenzo at Yamaha this year in particular had spurred him on to new heights.
"It is a great, great motivation for trying to improve," said Rossi. "Like with Stoner in 2007 and '08 I have to make a step. I have to make a clear improvement and to make an improvement at 29 years of age you have to work and struggle a lot – and make something more than in the past.
"And this year it is the same with Lorenzo. He is also my team-mate, with the same bike, so it means more concentration, more time dedicated to try and win. It is difficult, it is bad when you lose, but it is a lot, lot more exciting when you are able to win."
Rossi also thinks the races are more physically demanding now than when he won his first MotoGP titles with Honda in the early 2000s.
"Usually you don't make all the race at 100 per cent. Especially in those years, it was more about tactics, battle and afterwards push," he said.
"So if you make all the race at 100 per cent you crash for sure. But now the races change a lot. The rhythm is very fast from the beginning, from the first lap. The start is important, because with these bikes it has become more difficult to overtake. So now is very close to staying at 100 per cent for all the race."