Red Bull Ring European F3: Antonio Giovinazzi surprises in practice
| | |
| --- | --- |
| By Marcus Simmons | Friday, August 1st 2014, 13:46 GMT |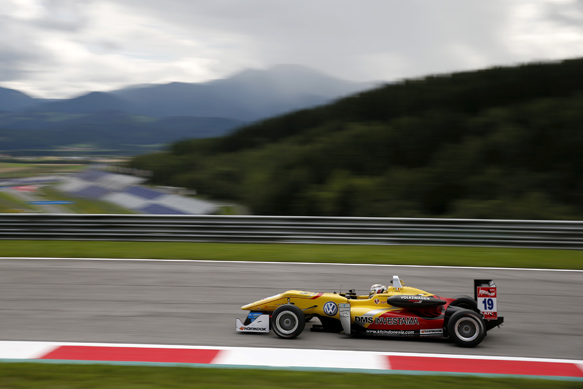 Antonio Giovinazzi topped both free practice sessions for this weekend's Formula 3 European Championship round at the Red Bull Ring.
The Carlin-run Jagonya Ayam protege bounced back from a recent run of poor results to head championship leader Esteban Ocon by just under a tenth of a second in his Dallara-Volkswagen.
Lotus F1 junior Ocon was always towards the front in his Prema Powerteam Dallara-Mercedes, taking third in the opening session.
Jake Dennis proved the strength of the Carlin package on this circuit, the Racing Steps-backed Brit going second in the opening 40-minute session and running Ocon very close in the second period.
So too did team-mates Jordan King and Tom Blomqvist, who ended the running fourth and sixth respectively.
Verstappen squeezed himself between the Carlin flotilla, the Dutchman going fifth quickest in his Van Amersfoort Racing Dallara-VW.
Prema also looks strong, with Dennis van de Laar and Antonio Fuoco backing up Ocon with seventh and eighth fastest times respectively.
Ed Jones made his Euro F3 return from injury - after warming up with a triple win last weekend at Spa in British F3 - to make it five Carlin runners in the top nine, while home hero Lucas Auer (although the Norisring is actually closer to his Kufstein home) rounded out the top 10 in his Mucke Motorsport Dallara-Merc.
Sandro Zeller parked his car early with a rough-sounding engine, while John Bryant-Meisner has started the weekend with a new Mercedes powerplant in his Fortec Motorsport car, and will take a trio of 10-place grid penalties as a result.
As predicted by AUTOSPORT, GP3 regular Alfonso Celis Jr is standing in for this round in the other Fortec car in place of Mitch Gilbert, who has quit the series.
Double R Racing is not at the Red Bull Ring as it was unable to find a replacement for Felipe Guimaraes.
Practice one:

Pos  Driver               Team/Car                        Time       Gap
 1.  Antonio Giovinazzi   Carlin Dallara-VW               1m25.843s
 2.  Jake Dennis          Carlin Dallara-VW               1m25.867s  +0.024s
 3.  Esteban Ocon         Prema Dallara-Merc              1m25.870s  +0.027s
 4.  Tom Blomqvist        Carlin Dallara-VW               1m26.014s  +0.171s
 5.  Antonio Fuoco        Prema Dallara-Merc              1m26.074s  +0.231s
 6.  Dennis van de Laar   Prema Dallara-Merc              1m26.275s  +0.432s
 7.  Jordan King          Carlin Dallara-VW               1m26.278s  +0.435s
 8.  Nicholas Latifi      Prema Dallara-Merc              1m26.377s  +0.534s
 9.  Lucas Auer           Mucke Dallara-Merc              1m26.488s  +0.645s
10.  Felix Rosenqvist     Mucke Dallara-Merc              1m26.488s  +0.645s
11.  Max Verstappen       Van Amersfoort Dallara-VW       1m26.646s  +0.803s
12.  Gustavo Menezes      Van Amersfoort Dallara-VW       1m26.809s  +0.966s
13.  Alexander Toril      T-Sport Dallara-NBE             1m26.823s  +0.980s
14.  Ed Jones             Carlin Dallara-VW               1m26.845s  +1.002s
15.  Felix Serralles      West-Tec Dallara-Merc           1m26.934s  +1.091s
16.  Roy Nissany          Mucke Dallara-Merc              1m27.044s  +1.201s
17.  Sandro Zeller        Jo Zeller Dallara-Merc          1m27.051s  +1.208s
18.  Sean Gelael          Carlin Dallara-VW               1m27.078s  +1.235s
19.  Hector Hurst         West-Tec Dallara-Merc           1m27.150s  +1.307s
20.  Tatiana Calderon     Jo Zeller Dallara-Merc          1m27.163s  +1.320s
21.  Spike Goddard        T-Sport Dallara-NBE             1m27.182s  +1.339s
22.  Santino Ferrucci     Eurointernational Dallara-Merc  1m27.315s  +1.472s
23.  Jules Szymkowiak     Van Amersfoort Dallara-VW       1m27.379s  +1.536s
24.  Michele Beretta      Eurointernational Dallara-Merc  1m27.407s  +1.564s
25.  John Bryant-Meisner  Fortec Dallara-Merc             1m27.757s  +1.914s
26.  Alfonso Celis Jr     Fortec Dallara-Merc             1m28.259s  +2.416s

Practice two:

Pos  Driver               Team/Car                        Time       Gap
 1.  Antonio Giovinazzi   Carlin Dallara-VW               1m25.347s
 2.  Esteban Ocon         Prema Dallara-Merc              1m25.441s  +0.094s
 3.  Jake Dennis          Carlin Dallara-VW               1m25.486s  +0.139s
 4.  Jordan King          Carlin Dallara-VW               1m25.526s  +0.179s
 5.  Max Verstappen       Van Amersfoort Dallara-VW       1m25.638s  +0.291s
 6.  Tom Blomqvist        Carlin Dallara-VW               1m25.837s  +0.490s
 7.  Dennis van de Laar   Prema Dallara-Merc              1m25.858s  +0.511s
 8.  Antonio Fuoco        Prema Dallara-Merc              1m25.877s  +0.530s
 9.  Ed Jones             Carlin Dallara-VW               1m25.962s  +0.615s
10.  Lucas Auer           Mucke Dallara-Merc              1m25.983s  +0.636s
11.  Roy Nissany          Mucke Dallara-Merc              1m26.051s  +0.704s
12.  Gustavo Menezes      Van Amersfoort Dallara-VW       1m26.102s  +0.755s
13.  Felix Serralles      West-Tec Dallara-Merc           1m26.112s  +0.765s
14.  Sean Gelael          Carlin Dallara-VW               1m26.141s  +0.794s
15.  Felix Rosenqvist     Mucke Dallara-Merc              1m26.147s  +0.800s
16.  Nicholas Latifi      Prema Dallara-Merc              1m26.189s  +0.842s
17.  Tatiana Calderon     Jo Zeller Dallara-Merc          1m26.313s  +0.966s
18.  Santino Ferrucci     Eurointernational Dallara-Merc  1m26.421s  +1.074s
19.  Jules Szymkowiak     Van Amersfoort Dallara-VW       1m26.459s  +1.112s
20.  Spike Goddard        T-Sport Dallara-NBE             1m26.481s  +1.134s
21.  Alexander Toril      T-Sport Dallara-NBE             1m26.610s  +1.263s
22.  Alfonso Celis Jr     Fortec Dallara-Merc             1m26.943s  +1.596s
23.  Hector Hurst         West-Tec Dallara-Merc           1m26.952s  +1.605s
24.  Michele Beretta      Eurointernational Dallara-Merc  1m27.171s  +1.824s
25.  Sandro Zeller        Jo Zeller Dallara-Merc          1m27.273s  +1.926s
26.  John Bryant-Meisner  Fortec Dallara-Merc             1m27.457s  +2.110s