Hungary to show true impact of FRIC ban in Formula 1
| | |
| --- | --- |
| By Jonathan Noble | Thursday, July 24th 2014, 17:30 GMT |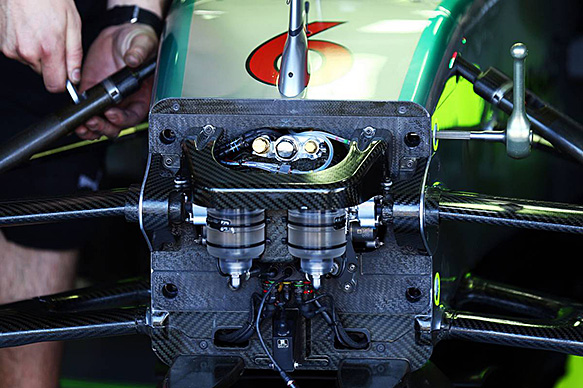 Formula 1's key figures believe the loss of FRIC suspension systems from cars will show up more at the Hungarian Grand Prix than it did in Germany.
Following an FIA clarification that FRIC could be challenged, all teams removed their systems before last weekend's race at Hockenheim.
And although it made only a minimal difference to the competitive picture - with Sauber appearing to gain the most and Lotus losing out - things could be more dramatic this time out.

ANALYSIS: How FRIC works and the effects of its loss
Nico Rosberg said: "With the way the corners are here, it might affect the car here more.
"It is not related to kerbs and bumps, it is related to corner duration and speeds - and there is quite a high average corner speed here."
Jenson Button echoed thoughts that the challenges of the Hungaroring will expose areas of the car that FRIC helped with.
"It will be interesting to see how the different cars are without the FRIC systems around here, because a bumpy circuit is a big issue when you don't have a FRIC system," he said.
"A lot of FRIC is to help with the ride quality, so it should benefit the people who are used to not working with them."
He added: "I think our system was good, but I think other people put more time and effort into it, and spent more on it, while we've been working on other areas.
"We're used to running without the system - we've had it on and off the car for the last three years and a lot of the time last year we didn't use it, so we know what the car does and how it changes the car so it's driveable."
How FRIC impacts on general car form will be key to Sauber's hopes of point-scoring form later in this season, with the outfit appearing to have benefitted from its absence in Germany.
Team principal Monisha Kaltenborn wanted to wait until after this race, however, to be sure that its form at Hockenheim was linked to the FRIC situation.
"You have to be careful because it is very track specific," he said. "There are tracks where it makes a bigger difference, and others where it doesn't really matter.
"I can imagine tracks coming up where we could feel it more - that the gap [with the FRIC teams] would be bigger. But we have seen now that the gap could become smaller and it has to do with that.
"But we have to wait and see what it means with the tracks coming up. It should give an indication here, so that is why I am cautious."