Ferrari Formula 1 team backs FIA's stance on FRIC
| | |
| --- | --- |
| By Jonathan Noble | Friday, July 18th 2014, 17:35 GMT |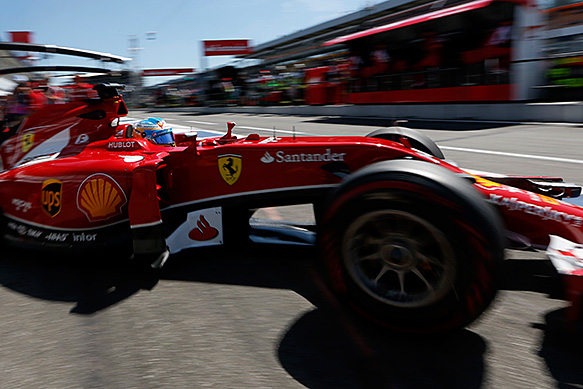 Ferrari has backed the FIA's handling of the FRIC controversy, even though Formula 1 teams have faced a headache in removing the suspension systems from their cars.
Motor racing's governing the FIA informed teams just after the British Grand Prix that it believed FRIC systems could be illegal, and that any team running them from this weekend's race in Germany faced the risk of a protest.
With teams failing to unanimously agree to a non-protest pact, all outfits elected to remove FRIC from their cars immediately.

TECH ANALYSIS: The implications of a FRIC ban
Although such sudden intervention to effectively change the rules mid-season has caused some extra work, Ferrari technical director James Allison reckons the FIA had done the right thing to be so decisive now.
"They reached their view about it, I think with the intention of making it illegal for next year - or make everyone realise it should not be on the cars for next year," said Allison.
"They chose their timing in a way to be kind to us so everyone would know, everyone would have clarity when designing next year's car about what the layout should be.
"All of us who have known now for a little while that we really shouldn't consider FRIC as part of the 2015 layout - and the fact that they have gone down that path to be kind to us and give us advance notice for 2015 led to the situation we have this weekend.
"We arrived at the weekend with a little bit of uncertainty about how we would all approach it but in the end, once one person broke ranks and said we are not fitting it, then it was fairly clear what was going to happen with the rest of us."
Allison said that there had been an impact in car behaviour by losing FRIC and, although not ruling out a change in the competitive order because of it, he thought things would settle down quickly.
"I think it probably tends to make everyone understeer a bit more, because everyone's front ride height will be a bit higher than it otherwise might have been," he explained.
"It is too early to say whether it shakes things up or not - but if it does, it will only be fairly short lived because people because people will get used it and figure out a way how to get their car set up without FRIC."