British GP qualifying: Tyre strategy triggered Williams exit in Q1
| | |
| --- | --- |
| By Ben Anderson and Glenn Freeman | Saturday, July 5th 2014, 16:56 GMT |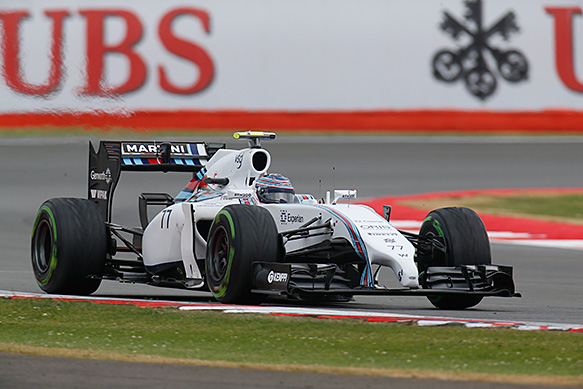 Williams has revealed that its Q1 exit in qualifying for the British Grand Prix was a result of the team trying to save tyres earlier in the session.
Felipe Massa and Valtteri Bottas - who locked out the front row two weeks ago in Austria - were two of the last cars to take to the track on slick tyres, meaning they missed the small window where the track conditions were at their best.
Williams's head of performance engineering Rob Smedley said that the team's strategy earlier in Q1 - where it had hoped to only need to use one set of intermediate tyres per car - put it on the back foot as conditions improved.
"We didn't know it was going to dry out in Q1 [earlier in the session]," Smedley told reporters in the Silverstone paddock.
"We wanted to be out in the middle of the session to do one run and have three new sets of inters for the rest of qualifying.
"When you look back it's easy to say that was the wrong decision, but we live in the real world, based on the information we had at the time."
Smedley said that while the decisions Williams made during the session were not taken by one person, he was happy to take the responsibility for the operational errors.
"The buck stops with me at the track," he said. "I sit in the middle of the pitwall - that's what Williams brought me in to do.
"We're all involved in the decision, but the responsibility has to come down to one person.
"I'm happy to take that responsibility - I like working like that because it doesn't bother me, and it takes the pressure off the team because there's no witch-hunt."
TIMING WAS COSTLY
Massa believes that the team missed the best conditions in qualifying because it was slow to react and took too long to change tyres in the closing stages.
"We didn't make the right strategy," said the Brazilian. "We made a mistake.
"Maybe we didn't react so quick. We just took it easy. And then we stopped and took too long to change the tyres.
"We lost maybe a minute and a half, and it started raining in the middle of the out-lap, so a minute before it would have been OK.
"We still need to improve and I'm sure we will. It's not easy to improve in many areas [at once]."