Houston IndyCar: Carlos Huertas takes shock win for Dale Coyne
| | |
| --- | --- |
| By Mark Glendenning | Saturday, June 28th 2014, 22:23 GMT |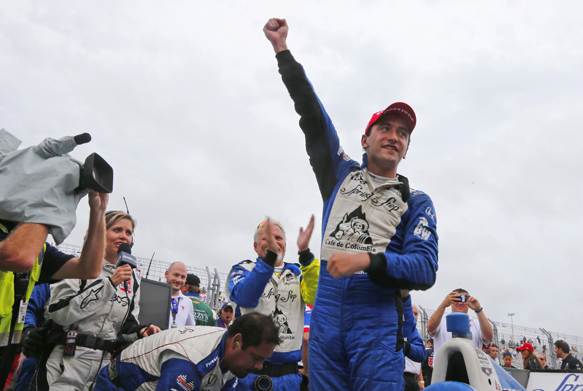 Carlos Huertas was the shock winner in a bizarre opening race of this weekend's IndyCar double-header in Houston.
The Dale Coyne Racing rookie had gone off strategy in his final stop, and was marginal on fuel as the race - which had begun wet - entered its final phase.
A similar strategy for team-mate Justin Wilson had left the Brit needing to pit with a handful of laps to go, but Huertas was spared the same fate when Ryan Briscoe hit Sebastian Saavedra with just four minutes remaining and brought out the yellows.
Even that was no guarantee of victory: the race was initially scheduled to go green with one lap to run, setting up the prospect of Huertas needing to defend his lead from Juan Pablo Montoya.
But he was saved again when Graham Rahal - who had done an exceptional job to surge to fourth after stalling at the start - rear-ended Tony Kanaan on the restart and forced a yellow-flag finish.
"It was always possible [to win]," said Huertas. "The team did a great job and the races are so long that you always have a chance to win if you do the right thing at the right time.
"Today was tough - I was really struggling and had no pace in the first part of the race but the team made a perfect call with the fuel."
The Rahal/Kanaan accident eliminated Kanaan on the spot, and while Rahal was able to drag his damaged car across the line in third, IndyCar issued an immediate post-race penalty that demoted him to 11th.
"I [told Kanaan] I'm sorry," Rahal said. "I was trying to keep the tyres dry, and with the stack-up I didn't see it at all.
"There was nobody quicker than us on that racetrack. I think if it had finished under green I'd have won for sure, but 'shoulda coulda woulda'. I don't even know where we finished."
Kanaan was unmoved by the apology.
"I've got to be professional," he said. "I've got a team to defend, and good sponsors, so I can't do what I really want to do.
"It was a shame. We fought all day long and to be taken out like that is really stupid.
"I want to believe he didn't do it on purpose. He came to apologise. But that doesn't take the frustration from me.
"Am I mad at him? Yes. Can I turn back time? No."
Rahal's punishment elevated Carlos Munoz to the podium to complete a Colombian 1-2-3; an impressive result considering that the Andretti youngster had been issued a drive-through penalty earlier on for running into team-mate Marco Andretti.
Had the race followed a more conventional script it probably would have been a James Hinchcliffe vs Sebastien Bourdais battle at the finish, but the pair were knocked out of contention when the flow of the race began to work against their fuel strategy.
Bourdais ultimately finished fourth and Hinchcliffe, aided by a post-race penalty to Briscoe for the Saavedra crash, was fifth.
Another driver whose afternoon could have worked out very differently was Takuma Sato, who was a class apart early in the race when the track was at its most wet.
His first stroke of misfortune came when he was bottled up behind Andretti, who had fallen to the back after pitting in the wake of his clash with Munoz.
Andretti set about the dual task of trying to remain on the lead lap while backing Sato into team-mate Hinchcliffe who was closing in from second. He was eventually penalised for ignoring blue flags, but by then the damage was done and Sato's 3.5s lead had been slashed to 0.6s.
Hinchcliffe rubbed salt into the wound by beating Sato out of pitlane, and a short time later the Japanese driver's misery was completed when he crashed into the lapped car of Mikhail Aleshin.
Sato sustained a bruised hand in the accident, and will need to pass an additional medical evaluation before being cleared to drive on Sunday.
The heavy rains prior to the race start prompted IndyCar to switch from a 90-lapper to a timed event of 1h50m.
Results - 80 laps:

Pos  Driver              Team/Engine           Time/Gap
 1.  Carlos Huertas      Coyne/Honda      1h51m25.5649s
 2.  Juan Pablo Montoya  Penske/Chevy          +0.0975s
 3.  Carlos Munoz        Andretti/Honda        +2.3433s
 4.  Sebastien Bourdais  KV/Chevy              +3.0878s
 5.  James Hinchcliffe   Andretti/Honda        +4.7101s
 6.  Jack Hawksworth     Herta/Honda           +5.5127s
 7.  Ryan Hunter-Reay    Andretti/Honda        +6.2853s
 8.  Marco Andretti      Andretti/Honda        +7.1638s
 9.  Helio Castroneves   Penske/Chevy          +8.2181s
10.  Justin Wilson       Coyne/Honda           +9.4366s
11.  Graham Rahal        Rahal/Honda         +30.8792s*
12.  Ryan Briscoe        Ganassi/Chevy       +33.2884s*
13.  Tony Kanaan         Ganassi/Chevy        +35.0789s
14.  Will Power          Penske/Chevy            -1 lap
15.  Sebastian Saavedra  KV/Chevy                -1 lap
16.  Simon Pagenaud      Schmidt/Honda          -6 laps

* Inc 30s penalty

Retirements:

     Mike Conway         Carpenter/Chevy        55 laps
     Charlie Kimball     Ganassi/Chevy          54 laps
     Scott Dixon         Ganassi/Chevy          46 laps
     Josef Newgarden     Fisher/Honda           41 laps
     Luca Filippi        Rahal/Honda            36 laps
     Takuma Sato         Foyt/Honda             32 laps
     Mikhail Aleshin     Schmidt/Honda          31 laps

All drivers use Dallara chassis