Lotus sets target of beating Ferrari in 2014 Formula 1 standings
| | |
| --- | --- |
| By Jonathan Noble | Thursday, May 15th 2014, 12:00 GMT |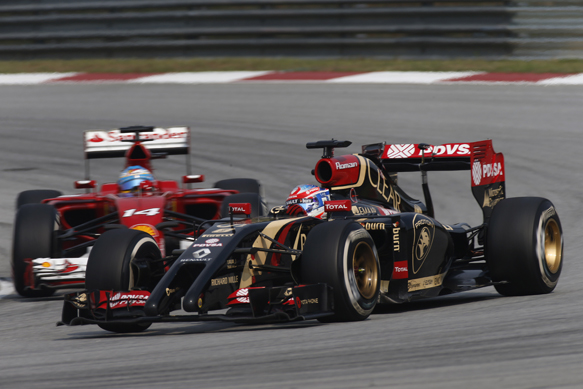 Lotus is convinced that it can now target a top three finish in the Formula 1 world championship, ahead of Ferrari, having recovered from its troubled start to 2014.
The Enstone-based team only managed to score its first points of the year in the Spanish Grand Prix last weekend, with Romain Grosjean finishing in eighth place.
But Lotus's confidence has been lifted by the fact that Grosjean could have finished higher up if he had not been slowed by an engine sensor problem.
Team owner Gerard Lopez said: "We've been saying from the beginning of the season we have a really good car. But it's been tough because of the foundations we had.
"We had an electronic issue on Romain's car for a couple of laps that cost us our fight with Ferrari, but we had managed to pull away from Kimi [Raikkonen] and Fernando [Alonso]. So maybe the end result would have been different and we could have fought for fifth or sixth.
"So it means in theory we have a car that is behind Mercedes - well, everyone is behind Mercedes - but closer to Red Bull. And then that means we are able to fight and beat pretty much any other car."
Although Lotus's hopes of taking third in the championship are hampered by its early non-scores - for it lies 62 points behind Ferrari - that has not made Lopez lower his team's ambitions.
"We want to fight for third or fourth in the championship," he said. "A quarter of the championship has gone, with teams taking points off each other, so it's not that easy for anybody, apart from Mercedes.
"As a result of that we have to keep on working.
"Having qualified fifth, and having been able to finish fifth or sixth, clearly shows we have a good car. It would be a bit cavalier to discount the rest of the season."