Hungaroring WTCC: Yvan Muller leads Saturday practice
| | |
| --- | --- |
| By Peter Mills | Saturday, May 3rd 2014, 11:19 GMT |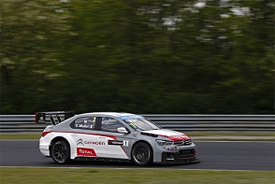 World Touring Car champion Yvan Muller set the fastest time in the Saturday practice sessions at the Hungaroring on Saturday.
Muller set a benchmark of 1m49.301s in the second session, outpacing Citroen team-mate Jose Maria Lopez, who had been quickest in the morning.
The track was officially declared wet before the start of the day.
However, rain had ceased long before the pitlane opened, leaving only a few noticeable damp patches on the circuit.
Lopez's morning time of 1m49.494s was over a second clear of Muller, and three seconds inside the reigning WTCC champion's 2013 qualifying lap record, set in an S2000 Chevrolet Cruze.
Sebastien Loeb completed a Citroen lock-out of the top three positions with the second fastest time of the second session, albeit over three tenths adrift of his team-mate's best.
Proteam's Mehdi Bennani had led the afternoon session for a lengthy period, but finished 'best of the rest' in fourth, 0.980s behind Muller's benchmark.
Local hero Norbert Michelisz delighted his fans by finishing in fifth in the Zengo Honda ahead of Tom Chilton.
Michelisz suffered a minor off-track moment at Turn 8 on a late effort.
Despite the isolated pools of water, there were relatively few incidents in FP1.
Franz Engstler lost the back end of his rear-wheel drive BMW on the exit of Turn 7, skating across saturated grass and making light contact with the barriers.
TC2 rookie John Filippi continued after an off at Turn 9, and 2009 WTCC champion Gabriele Tarquini also incurred a minor delay by running wide at Turn 5.
Follow WTCC qualifying and both races as they happen on AUTOSPORT Race Centre Live this weekend
Practice 1

Pos Driver                Car                  Time       Gap     Laps
 1. Jose Maria Lopez      Citroen              1m49.494s           11
 2. Yvan Muller           Citroen              1m50.774s  +1.280s  14
 3. Tom Chilton           ROAL Chevrolet       1m50.905s  +1.411s  13
 4. Tiago Monteiro        Honda                1m51.071s  +1.577s   9
 5. Sebastien Loeb        Citroen              1m51.155s  +1.661s  15
 6. Gabriele Tarquini     Honda                1m51.182s  +1.688s  11
 7. Mehdi Bennani         Proteam Honda        1m51.238s  +1.744s  12
 8. Gianni Morbidelli     Munnich Chevrolet    1m51.517s  +2.023s  12
 9. Dusan Borkovic        Campos Chevrolet     1m51.562s  +2.068s  12
10. Norbert Michelisz     Zengo Honda          1m51.564s  +2.070s  13
11. Hugo Valente          Campos Chevrolet     1m51.627s  +2.133s  13
12. Rene Munnich          Munnich Chevrolet    1m52.122s  +2.628s  14
13. Tom Coronel           ROML Chevrolet       1m52.287s  +2.793s  13
14. Rob Huff              Lada                 1m52.652s  +3.158s  11
15. James Thompson        Lada                 1m53.182s  +3.688s  9
16. Mikhail Kozlowskiy    Lada                 1m53.457s  +3.963s  15
17. Franz Engstler        Engstler BMW*        1m55.786s  +6.292s  12
18. Pasquale di Sabatino  Engstler BMW*        1m57.220s  +7.726s  12
19. Yukinori Taniguchi    Nika Honda*          1m57.617s  +8.123s  14
20. John Filippi          Campos SEAT          2m00.159s  +10.665s 11

Practice 2

Pos Driver                Car                  Time       Gap     Laps
 1. Yvan Muller           Citroen              1m49.301s           11
 2. Sebastien Loeb        Citroen              1m49.674s  +0.373s  10
 3. Jose Maria Lopez      Citroen              1m50.053s  +0.752s  12
 4. Mehdi Bennani         Proteam Honda        1m50.281s  +0.980s  14
 5. Norbert Michelisz     Zengo Honda          1m50.344s  +1.043s  11
 6. Tom Chilton           ROAL Chevrolet       1m50.720s  +1.419s  13
 7. Tiago Monteiro        Honda                1m50.836s  +1.535s  13
 8. Tom Coronel           ROML Chevrolet       1m51.165s  +1.864s  13
 9. Gabriele Tarquini     Honda                1m51.228s  +1.927s  12
10. Dusan Borkovic        Campos Chevrolet     1m51.253s  +1.952s  11
11. Gianni Morbidelli     Munnich Chevrolet    1m51.717s  +2.416s  12
12. Hugo Valente          Campos Chevrolet     1m51.899s  +2.598s  10
13. Rob Huff              Lada                 1m52.228s  +2.927s  12
14. Rene Munnich          Munnich Chevrolet    1m52.243s  +2.942s  12
15. James Thompson        Lada                 1m52.884s  +3.583s  10
16. Mikhail Kozlowskiy    Lada                 1m53.101s  +3.800s  12
17. Franz Engstler        Engstler BMW*        1m55.948s  +6.647s  13
18. Pasquale di Sabatino  Engstler BMW*        1m56.067s  +6.766s  12
19. John Filippi          Campos SEAT          1m57.617s  +8.316s  14
20. Yukinori Taniguchi    Nika Honda*          1m59.527s  +10.226s  8

* TC2