Long Beach Formula 1 return highly unlikely reckons Takuma Sato
| | |
| --- | --- |
| By Mark Glendenning | Thursday, April 24th 2014, 13:53 GMT |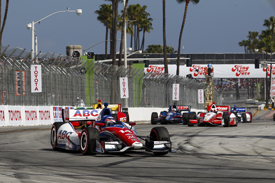 Takuma Sato believes that sheer scale of work required to bring the Long Beach street circuit up to grand prix standard makes a mooted Formula 1 return unlikely.
A group led by Long Beach race founder Chris Pook has been angling for F1 to come back to Southern California when the current deal with IndyCar expires after 2015.
However Sato, who raced in F1 between 2002 and '08 for Jordan, BAR and Super Aguri, and won the Long Beach IndyCar race in '13, doubts F1 cars could cope with the venue's bumpy surface.
"I don't know if current F1 cars could absorb the conditions of the track surface here or not," he told AUTOSPORT. "I pretty much think they can't.
"They'd have to resurface like they do in Monte Carlo - they resurface that every year.
"And the rest of the track is semi-permanent, so they have a very smooth surface.
"But it is a real street course. Even we [in IndyCar] have a lot of bouncing. So there'd be a lot of work to be done."

Long Beach considers F1 return
Sato's scepticism is shared by fellow F1 veteran Justin Wilson.
"We love going there because it's Long Beach, it's a lot of fun, and it's so raw," he told AUTOSPORT.
"But an F1 car won't go around there. They'd be complaining about the bumps - they'd have to resurface the entire place, after they'd ground the entire place.
"I saw that story [about an F1 return] and chuckled.
"There's no way an F1 race could happen around here anymore.
"In the 1980s you could do that, but now it doesn't any sense.
"It's a great event; we love it. But Monaco is as smooth as the Indy 500, to give you a point of reference.
"If they came to Long Beach, they'd be shocked."