St Petersburg IndyCar: Sato grabs pole in delayed qualifying
| | |
| --- | --- |
| By Mark Glendenning | Saturday, March 29th 2014, 23:27 GMT |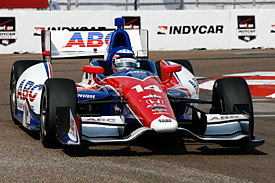 Takuma Sato backed up his early weekend speed by charging to pole for Sunday's IndyCar's season-opener in a rain-delayed qualifying session in St Petersburg.
The AJ Foyt driver topped both of his preliminary qualifying stages on his way to the Fast Six, and then put pole beyond the reach of his rivals with a 1m01.8686s effort, nearly 0.3 seconds faster than closest threat Tony Kanaan.
"It's a fantastic day," Sato said. "You can't ask for a better start to the season."
One of the most impressive elements of Sato's performance was that he was one of three drivers to start the second phase on red tyres, with everyone else still on wets, yet while Ryan Briscoe and Mike Conway subsequently had their rubber go off when the track was at its best, Sato set fastest laps three times in the final five minutes.
While unable to match Sato's eventual pole lap, Kanaan said that he was pleased to get his Ganassi career off to a good start.
"It feels good not to see 17 cars in front of me at the start," he said. "I think it's three years since I made the Fast Six.
"Qualifying was a bit of a lottery I think - it was probably fun for the fans, but for us it was quite hard, so I'm happy."
Ryan Hunter-Reay and Will Power will share the second row ahead of reigning series champion Scott Dixon and Marco Andretti, giving engine manufacturers Chevrolet and Honda an even split of the top six.
Thunderstorms accompanied by a tornado warning caused the session to postponed by more than three hours, and meant that the drivers were faced with a wet but constantly drying track.
The changing conditions claimed a few early casualties: both Graham Rahal and James Hinchcliffe were stripped of their two fastest times in the first qualifying phase for spinning and causing red flags, although Hinchcliffe's consequent demotion from the top six paid dividends for Ryan Briscoe, who had gambled on staying out with a damaged wing and earned a progression to the next phase as his reward.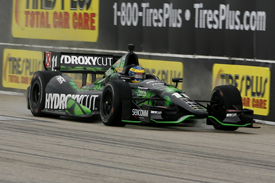 Also compromised by the early proliferation of reds was Sebastien Bourdais, who only managed to squeeze in one flying lap.
"Is that qualifying?" he said. "It's one lap. It's a joke. The conditions are fine. If we're going to go qualifying, we need to have a fair shot. And we didn't."
Juan Pablo Montoya's single-seater return began quietly, with the Penske recruit admitting that he struggled to adapt to the conditions.
He was ninth at the end of the first phase, falling three spots short of progressing to the next session, and setting himself up to start from the rear half of the field.
"It is what it is," he said. "I haven't driven in the wet in a long time and we didn't have occasion to do it during testing. It sucks, but it is what it is."

Pos Driver               Team/Engine          Time       Gap       
 1. Takuma Sato          Foyt/Honda           1m01.8686s
 2. Tony Kanaan          Ganassi/Chevy        1m02.1637s  +0.2951s
 3. Ryan Hunter-Reay     Andretti/Honda       1m02.2167s  +0.3481s
 4. Will Power           Penske/Chevy         1m02.3955s  +0.5269s
 5. Scott Dixon          Ganassi/Chevy        1m02.4454s  +0.5768s
 6. Marco Andretti       Andretti/Honda       1m02.9595s  +1.0909s
 7. Carlos Munoz         Andretti/Honda       1m03.3955s  Round 2
 8. Jack Hawksworth      Herta/Honda          1m03.5738s  Round 2
 9. Ryan Briscoe         Ganassi/Chevy        1m03.6206s  Round 2
10. Helio Castroneves    Penske/Chevy         1m03.6635s  Round 2
11. Sebastian Saavedra   KV/Chevy             1m03.8374s  Round 2
12. Mike Conway          Carpenter/Chevy      1m03.9618s  Round 2
13. Sebastien Bourdais   KV/Chevy             1m15.8337s  Group 1
14. Simon Pagenaud       Schmidt/Honda        1m12.3741s  Group 2
15. Mikhail Aleshin      Schmidt/Honda        1m15.9111s  Group 1
16. Justin Wilson        Coyne/Honda          1m12.5890s  Group 2
17. Carlos Huertas       Coyne/Honda          1m16.8105s  Group 1
18. Juan Pablo Montoya   Penske/Chevy         1m12.6994s  Group 2
19. James Hinchcliffe    Andretti/Honda       1m17.0155s  Group 1
20. Charlie Kimball      Ganassi/Chevy        1m13.0048s  Group 2
21. Graham Rahal         Rahal/Honda          1m52.9601s  Group 1
22. Josef Newgarden      Fisher/Honda         1m13.1170s  Group 2