F1 fuel-flow sensor firm says it has FIA's backing
| | |
| --- | --- |
| By Matt Beer | Tuesday, March 18th 2014, 14:00 GMT |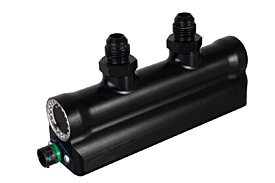 The company that produces the fuel-flow meters at the heart of the row over Daniel Ricciardo's Australian Grand Prix exclusion says it has received "positive" feedback from the FIA.
Red Bull driver Ricciardo lost his second place in Melbourne when the stewards ruled that his car had "consistently" exceeded the mandatory 100kg/h fuel-flow rate during the 2014 F1 opener.
The team is launching an appeal as it insists the fuel-flow sensor was inaccurate and that by its own measurements Ricciardo was always within the regulations.
Team boss Christian Horner said: "These fuel-flow sensors that are provided by the FIA to measure fuel have proved problematic down the pitlane since their introduction in testing.
"There have been discrepancies and they have been unreliable."
Red Bull fuel flow controversy

Red Bull rivals followed FIA over fuel sensors

FIA: Red Bull ignored requests

Analysis: fuel-flow sensors explained

Red Bull blames 'immature' technology
But Gill Sensors, which supplies the fuel-flow meters, says it has received the FIA's full backing.
"Following the Australian Grand Prix last weekend, the FIA have provided Gill Sensors with positive feedback on the performance of the fuel-flow meter, confirming their confidence in the development and stating the meters meet the FIA's accuracy specification," said the company in a statement.
"The meter development included an extensive testing programme, which involved liaising with many of the F1 teams for their valuable feedback on meter design and functionality.
"Meter calibration is handled by the FIA's third-party calibration company.
"The meters utilise ultrasonic technology which was selected for its resilience in extreme operating conditions."
AUTOSPORT has learned that other teams had concerns over the fuel sensors, but opted to follow the FIA's instructions to reduce their flow rates regardless.