Ford enters formal negotiations to run new British Formula 4 series
| | |
| --- | --- |
| By Scott Mitchell | Wednesday, March 12th 2014, 11:09 GMT |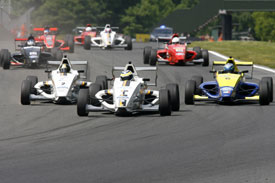 Ford has entered formal negotiations with the Motor Sports Association to operate the new British Formula 4 championship next season.
British motorsport's governing body confirmed it had selected the Blue Oval's tender to organise and promote the new single-seater series in 2015 to go through to the next stage of the process.
The marque first expressed its intent to be the basis of the new championship, which will run in line with FIA single-seater commission president Gerhard Berger's FIA F4 vision, last year.
Its original vision was to migrate British Formula Ford to the FIA's sporting and technical regulations, a plan that was boosted late last year when the FIA relented on its original requisite of normally-aspirated engines for the new formula.
That allowed Ford to tender with its existing, turbocharged EcoBoost powerplant.
No specific details have been revealed about the tender, nor whether Ford would continue to contract British FFord organiser Racing Line to manage the day-to-day running of the series, but AUTOSPORT understands it contained multiple chassis options.
"We're pleased to be involved," head of Ford's European racing arm Gerard Quinn told AUTOSPORT.
"We have tendered for the organisation and the promotion, similar to what we do with Formula Ford now.
"If that [contracting Racing Line] is what we wanted to do, we could. It wouldn't be fair to comment on the specific requirements of the tender.
"What I can say is we offered a good proposal with a number of options and that's maybe what made it attractive."
While transitioning British Formula Ford into the the UK's FIA F4 championship is Ford's long-term goal, Quinn believes the upcoming season could be crucial to its success and hopes a grid of 13-15 cars will line up at Brands Hatch.
"Anyone making a decision now or for next year, this is probably the championship to look at right now," he said.
The MSA has not set a date for the final decision on the championship but hopes to complete the process quickly.
AUTOSPORT SAYS
Scott Mitchell, Editorial Assistant - @ScottMitchell89
The Motor Sports Association's original invitation for parties to tender for the right to run the British version of FIA Formula 4 stuttered into life, but this latest step is crucial.
Moving Ford's application to the next stage of the process is crucial to its chances of becoming not just a reality, but a success. But there's a lot to do yet.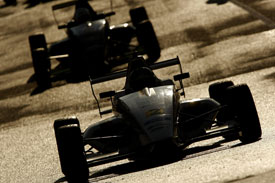 British F4 will join an already-saturated single-seater market in Britain. Yes, it might be a straight swap for British Formula Ford, but Formula Renault BARC and the year-old BRDC Formula 4 Championship aren't going anywhere just yet.
The new series is likely to be in direct competition with BRDC F4, but Ford can actually take heart from the existing series' short history.
Firstly, there is still a very healthy appetite among young drivers to move into single-seaters. Poor grids and rising costs in recent years have not stopped that from being the case. Get it right, and the numbers will come.
Secondly, it shows that British F4 isn't out of time. BRDC F4 wasn't confirmed officially until September 2012, and yet managed to sell all 24 cars within a matter of months and put on a superb inaugural season.
Ford's engine is ready, it has a ready-made slot on the TOCA package to be taken (assuming it does, as expected, replace FFord) and it may well be a matter of dotting the 'i's and crossing the 't's when it comes to getting a constructor to build a car.
The closer we get to British Formula 4's arrival, the more likely there is going to be a locking of horns between existing series. Not least on the name, for BRDC F4 creator Jonathan Palmer's series owns the Formula 4 trademark in the UK.
Maybe a straight fight to attract numbers will keep costs from escalating and be to the benefit of aspiring racers. Or maybe British single-seater racing's factions will grow further.
Either way, the battle lines will soon be drawn.