Bamboo team pulls out of 2014 World Touring Car Championship
| | |
| --- | --- |
| | Thursday, February 27th 2014, 12:38 GMT |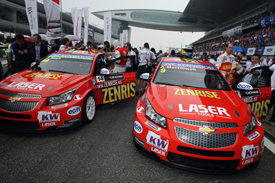 Bamboo Engineering will not compete in the 2014 World Touring Car Championship after failing to raise the required budget.
The team says it is treating the year as a sabbatical, and that it intends to return for 2015.
Bamboo finished second to RML in the 2013 teams' championship, and also captured the Yokohama Trophy and third in the overall drivers' standings courtesy of James Nash, who has swapped to GT racing.
Bamboo had agreed a deal to purchase and run upgraded Chevrolets from RML.
It has now cancelled that plan due to a budget shortfall, and opted to withdraw from the series.
"Regretfully we won't be competing in WTCC this season," chief executive Richard Coleman said.
"It was too difficult for us to raise the required budget to compete at the very front of the grid and Bamboo is about going forward.
"We will actively seek the right circumstances for our return in 2015.
"The WTCC has a very bright future, and I know first hand how much progress is being made."
New World Touring Car Championship chief Francois Ribeiro, who has pledged to help protect privateers, said he would work closely with the outfit to ensure its return.
"As the championship promoter, we really enjoyed our relationship with Bamboo Engineering," Ribeiro said.
"We will be working closely with them to bring this team back into the WTCC at the TC1 level they aim for."
Having sold its GP3 Series operation to GP2 championship-winning team Russian Time, Bamboo had been set to focus on touring cars this season.
It said in a statement that it "will be announcing [its] 2014 racing programmes imminently."
2014 WTCC line-up so far:

Team                 Car                  Driver(s)
Honda (JAS)          Honda Civic WTCC     G Tarquini/T Monteiro
Citroen              Citroen C-Elysee     S Loeb/Y Muller/JM Lopez
Lada (SMP)           Lada Granta          R Huff/J Thompson/M Kozlovskiy
Zengo Motorsport     Honda Civic WTCC     N Michelisz
Proteam Motorsport   Honda Civic WTCC     M Bennani
ROAL Motorsport      Chevrolet Cruze      T Coronel/T Chilton
Campos               Chevrolet Cruze      H Valente/D Borkovic
Onyx                 tba                  tba