AUTOSPORT Awards 2013: Pikes Peak Peugeot wins Rally Car of Year
| | |
| --- | --- |
| By Sam Tremayne | Sunday, December 1st 2013, 22:47 GMT |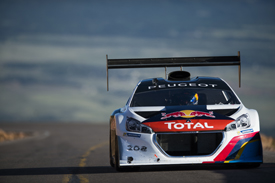 Peugeot's 208 T16 Pikes Peak has been named Rally Car of the Year at the AUTOSPORT Awards in London.
With nine-time World Rally champion Sebastien Loeb at the wheel, the French machine obliterated the Pikes Peak hillclimb record by at the first attempt this year.
The 208 T16 beat several World Rally Cars - including Volkswagen's all-conquering Polo - X-Raid's Dakar Mini and the Skoda Fabia S2000 to win the award.
Ari Vatanen, who won the Pikes Peak event twice for Peugeot in the sensational 405 T16 in 1988 and '89, collected the award.

Coulthard tests the Pikes Peak Peugeot for AUTOSPORT
"What Sebastien did was quite something," Vatanen said. "I advise you to go to Pikes Peak once - the road goes a very long way round, but in a race you miss your braking and it's a short three mile drop back to the start.
"I think rally drivers are very privileged to do things like this, but it was an incredible feat."
Though Loeb was new to the 12.42-mile hillclimb, which features 156 corners in an ascent from 2,800 to 4,300 metres, Peugeot did at least have the experience of those two Vatanen wins to draw upon.

Loeb on the edge at Pikes Peak
The marque duly produced the purpose-built 208 T16, which boasted 875bhp, weighed 875kg and produced a maximum 650lb ft of torque.
The car's bodywork was specially constructed, and it also used the rear wing of Peugeot's Le Mans 24 Hours-winning 908.
The T16 flew from the outset and Loeb dominated qualifying for the event, running almost five seconds per mile quicker than the rest of the field.
The Frenchman then smashed the course record at the first attempt. His time of 8m13.878s was a minute and a half under the previous record.
ONBOARD WITH LOEB UP PIKES PEAK