Formula 1 teams fear boring 2014 races after one-stop US GP
| | |
| --- | --- |
| By Jonathan Noble | Monday, November 18th 2013, 09:41 GMT |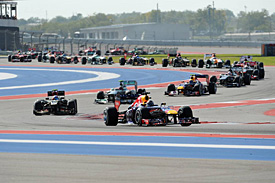 The lack of excitement in the United States Grand Prix should act as a wake-up call for Formula 1 to not become too conservative in 2014, reckon leading paddock figures.
Pirelli is threatening to play it ultra-safe with its tyres next year because it is fed up with the criticisms it has faced in its efforts to produce two-stop races since it returned to F1.
Its current stance for 2014 will guarantee that most races will be similar to the one-stop US GP, unless the FIA steps in and forces multiple stop races through a regulatory change.
Ferrari team principal Stefano Domenicali admitted that the situation was now a worry for next year.
"It is a point of concern or discussion in the next couple of weeks, because we cannot have a situation where in order to be very conservative we will have races where there is not any thrill," said Domenicali, when asked by AUTOSPORT about the tyre situation.
"I am sure with Pirelli we will find the right solution because it is not a problem of giving more favours to one team or to another - it is important for the sport and the show.
"We will have a different car that will produce different torque, above all on the rear, so I think this is a point that needs to be heavily discussed in the next few weeks."
Red Bull boss Christian Horner reckoned it would be a mistake for F1 if every race turned in to a one-stopper next year.
"I think you have got to get the balance, haven't you," he said.
"Austin was a low-risk race as far as tyres were concerned. A reasonably static race as well.
"So it is a matter of finding that balance. It is important to not give Pirelli too hard a time in trying to find the blend between degradation and reliability.
"But you have to be careful. You don't want all the races to be one stop.
"You want to have a blend of strategies and that is where the tyre is obviously a key factor."
But not all team principals are convinced that there needs to be any worries about the tyre situation for the future.
Mercedes team principal Ross Brawn said: "I think there will be quite a lot of action from the cars next year.
"I don't think the reliability will be 100 per cent, so there will be quite a lot going on there.
"I think we have got quite a lot, at least for a year, going on with racing from that perspective, so I wouldn't worry overly about the tyres being more conservative.
"If the racing starts to settle down again then maybe we need to look at the tyres, but I have my suspicion we will have our hands full with the cars next year."