Comment: Kevin Magnussen is ready for F1 drive with McLaren
| | |
| --- | --- |
| By Glenn Freeman | Monday, November 11th 2013, 19:31 GMT |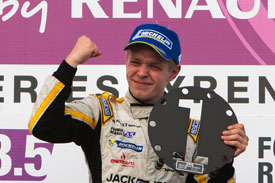 With so few testing opportunities for Formula 1 newcomers today, teams have become incredibly cautious when it comes to taking a chance on a rookie.
The chances of a driver making the sort of explosive impact that Lewis Hamilton made in 2007 are very slim, as modern day rookies tend to make their F1 debut with around a quarter of the mileage that Hamilton had back then.
Writing a column for AUTOSPORT earlier this year, Magnussen admitted that he longed for the days when teams could bring drivers up to speed with testing throughout the season.
With those days gone, teams now have to look at other signs to spot when a driver is ready to make the step up, and it's little surprise that by paying close attention to how he has grown in Formula Renault 3.5 - particularly over the last 12 months - McLaren has decided he is worth a shot.
In 2012 Magnussen was spectacular but erratic. He took three poles in FR3.5, but only sealed one victory.
After the summer break - and almost certainly some stern words from McLaren - he returned determined to harness his obvious speed into solid results, as his attention switched to building a foundation for a title push in 2013.
Ironically, the first weekend of his more conservative approach almost netted him victory, but a last lap gearbox failure for Magnussen while leading in Hungary set Red Bull junior Antonio Felix da Costa on his way to a run of four wins in the final five races.
AUTOSPORT has witnessed Magnussen maturing both in and out of the car since then. He switched from Carlin to DAMS for 2013, and Jean-Paul Driot's team worked hard on him at the start of the year to make him more co-operative with his engineers.
Once those early bumps in the road were ironed out the results were spectacular. Magnussen combined his undoubted speed with an incredible consistency: ignoring the race he was excluded from for a technical infringement (which cost him a win), his average finish this season was third.
On top of that, he took five wins, eight poles, 13 podiums, 15 top 10s (to score points) and he finished every race.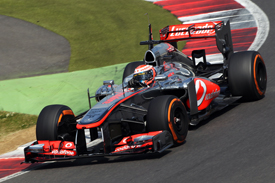 When asked if Magnussen was ready for F1, DAMS boss Jean-Paul Driot recently told AUTOSPORT: "He has a great future. He is very good mentally, and this is the most important thing.
"He knows how to manage everything and he will not be distracted by all that Formula 1 brings."
McLaren was also impressed with his ability to manage risks during races. Highlights here included knowing when to back out of moves while dicing with da Costa at Monza for the lead, yet having the bravery and awareness to pick his way through from 16th to second in the wet at the Hungaroring.
Everything about Magnussen's 2013 FR3.5 championship-winning season proved that he had mastered the art of blending speed with common sense, intelligence and good decision-making.
As the man himself told AUTOSPORT after sealing the championship at Barcelona, he is as ready as he can be given that F1 seat time is so limited today.