Mercedes: pride at stake in F1 2013 Ferrari, Lotus fight
| | |
| --- | --- |
| By Jonathan Noble | Wednesday, November 6th 2013, 16:13 GMT |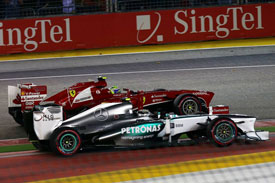 Mercedes team boss Ross Brawn says that pride is as much at stake as money in the fight for second in the Formula 1 constructors' championship with Ferrari and Lotus.
Nico Rosberg's third placed finish in the Abu Dhabi Grand Prix helped Mercedes pull 11 points clear of Ferrari in the fight for best of the rest behind Red Bull this year.
Although the estimated £10 million bonus that finishing second could earn the team in commercial rights income is important, Brawn has insisted that the matter is not just valuable because of the additional revenue.
"It helps, of course it helps," Brawn told AUTOSPORT about the commercial value of finishing second.
"We've got a budget for an objective, and the objective is to win the world championship.
"The commitment we have got is to that level and, if we can increase the income by finishing second, then that helps.
"But I think it is also about pride. We've finished fourth, fourth, and fifth for the first three years [of Mercedes]. So second now would be a great step in the right direction.
"We would also be next to Red Bull in the pit lane, which is where we want to be.
"So there is a lot of pride at stake and that is all there is left in the championship right now - apart from some statistics that Sebastian [Vettel] might set."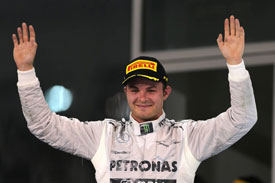 Although Mercedes got itself back on the podium with a stronger performance in Abu Dhabi, suggesting it is favourite to secure second spot, Brawn thinks the situation is still too close to call.
"It is pretty fragile," he said. "They say two swallows don't make a summer. I felt we needed to race better, more effectively.
"That is what we have done the last couple of races. It has not been perfect, but it's been much stronger than the previous couple of races.
"We have done nothing major with the car.
"There are a few little tweaks here and there, and we raced it and achieved the full potential of the car."