Korean GP: Pirelli hits back at Mark Webber, Fernando Alonso criticism
| | |
| --- | --- |
| By Jonathan Noble | Sunday, October 6th 2013, 12:44 GMT |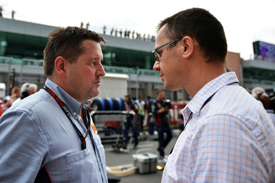 Pirelli motorsport director Paul Hembery says Fernando Alonso and Mark Webber are wrong to direct their anger at Formula 1's tyre company.
Alonso and Webber were both unhappy with Pirelli's aggressive tyres during the Korean Grand Prix weekend - claiming that it is not normal for drivers to not be able to push hard in qualifying or the races.
But Hembery has reiterated his stance that the current concept of high-degrading tyres is exactly what Pirelli had been asked to do.
He said that if Webber and Alonso should be upset at anyone, it should be the teams who demanded Pirelli spice up the action.
When asked by AUTOSPORT if he understood Webber and Alonso's frustrations, Hembery said: "They are no different to maybe Michael [Schumacher]'s last year.
"It is maybe a different input if you are having to manage the tyres and you don't want to do it.
"Then you have a different point of view. And there is nothing wrong with a different point of view. It is just not what we've been asked to do at the time.
"If we had been asked to do no degradation and no pitstops then that is what we will have done."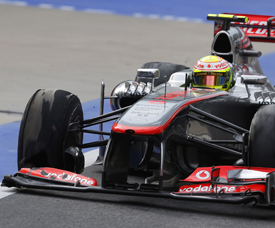 AUTOSPORT understands that as well as speaking out to the media, Webber visited Hembery privately on Sunday night to vent his frustrations about the tyres.
PEREZ FAILURE CAUSED BY FLAT SPOT
Webber's chances of a good result were effectively wrecked when he picked up a puncture on debris from Sergio Perez's tyre failure.
Although the Perez incident was reminiscent of problems experienced earlier in the campaign, Hembery said the issue was caused by a massive flat spot that put a hole in the rubber.
"From the telemetry it was a big flat spot," he said. "It put a huge hole right the way through the tread block. There is not a lot we can do about that one."