FIA will back Pirelli Formula 1 deal if teams and Ecclestone agree
| | |
| --- | --- |
| By Jonathan Noble | Saturday, September 7th 2013, 18:25 GMT |
The FIA is ready to approve a fresh Pirelli Formula 1 tyre contract if that is what the teams and Bernie Ecclestone want.
Following weeks of uncertainty about the state of the F1 tyre supplier deal, FIA president Jean Todt said on Saturday that he saw no issues with Pirelli carrying on.
Although there has been widespread speculation that Michelin is pushing for a return, Todt said there was no plans to open up the bidding process if the teams and Ecclestone were happy.
When asked by AUTOSPORT about whether or not the FIA will open up a tyre tender process to allow Michelin to bid, Todt said: "We will see, but if everybody says we are very happy, then what is the point going to a tender?
"I will be able to explain that we don't go to a tender because everybody is asking [for Pirelli]. But if I had five teams saying we want that, and the other ones this, then definitely we would need to go to a tender.
"Plus, if it is unanimous to go in a direction, then if I go to a tender you know what people will say? 'He is against Pirelli so he does a tender to try to make it Michelin'."
MICHELIN BIAS RUMOURS LAUGHED OFF
Todt revealed that he held talks with Ecclestone about the matter at Monza on Saturday, and plans to speak to Pirelli chairman Marco Tronchetti Provera on race morning.
He also made it clear that speculation he was favouring a return for Michelin was wide of the mark - especially because as Ferrari boss he never did a deal with the company during its last spell in F1, although many of his rivals did.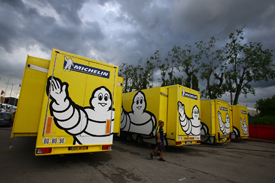 "I have been reading that I want Michelin because I am French," he said. "But I never read that being French I was the only one among the top teams to stay with Bridgestone when Michelin came [into F1].
"And I was still French... my nationality did not change."
He added: "I know exactly what needs to be done but at the moment there are some discussions that need to be undertaken, some discussions with the teams, some discussions with the commercial rights holders.
"I know Michelin has demonstrated some interest. But at the end of the day we will do the things that need to be done. But I will not do something which does not create a consensus."