IndyCar targets move outside US by 2015, considers winter series
| | |
| --- | --- |
| By Gary Watkins | Thursday, August 22nd 2013, 08:45 GMT |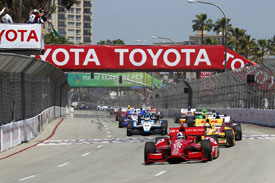 IndyCar has targeted a move outside of North America by 2015 with a series of off-season races around the world that could form a winter championship.
The aim of the races would be to give IndyCar teams new revenue streams over an off-season that looks likely to grow from next year, when the calendar could climax as early as the end of August.
Plans for the internationalisation of IndyCar have been laid out by new president of operations and competition Derrick Walker.
He outlined a number of different scenarios, including non-points races, a winter or regional championship, and even the possibility of the IndyCar Series starting overseas in January or February.
"We have teams that from the end of September or October through to the start of the season in March don't have an awful lot to do; there is only so much testing you can do," the former the former CART and IndyCar team owner told AUTOSPORT.
"Our teams need income and an international component to their season would help strengthen their financial position."
Walker stressed that there were no plans to add any flyaway events to the Sao Paulo street circuit in Brazil, which has had a place on the IndyCar schedule since 2010, to the middle or end of the season.
"We are not going to tear up our existing calendar and we don't want our champion crowned at 1am in some far away place," he explained.
"But if there are races in January or February leading into the domestic series, then it might make sense to include them in our championship."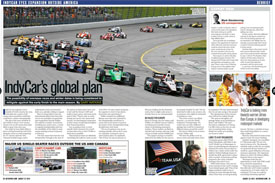 A European group called World Series Operations - which has links to the A1GP World Cup of Motorsport in 2005-09 and subsequent attempts to relaunch the championship - is known to have put forward plans for a winter series under the IndyCar Global Challenge banner.
It already has draft agreements in place with a number of promoters and has proposed a five-event schedule starting at the end of 2014.
The idea for winter races appears to have the backing of the teams.
Andretti Autosport vice-president J-F Thormann said: "We are very much in favour of it.
"The domestic schedule ends so early, but we employ our personnel all year round, so it would be a good utilisation of human resources and assets."
For the full story on IndyCar's global plan, see this week's magazine - also available in digital format
DID YOU KNOW?
The premier single-seater series in the US first travelled outside of North America seven years before the United States Auto Racing Club's British double-header at Silverstone and Brands Hatch in 1978.
Its National Championship took in a double-header on the Rafaela oval in Argentina in 1971.