WRC Rally Finland officials investigating Meeke/Novikov incident
| | |
| --- | --- |
| By David Evans | Friday, August 2nd 2013, 13:49 GMT |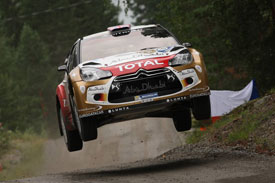 Rally Finland officials are examining footage from the incident involving Kris Meeke and Evgeny Novikov on the second stage this morning.
The Russian driver pulled out onto the road in front of Meeke after crashing into a pile of logs on the Palsankyla stage.
Meeke then followed him for six miles before the heavily damaged Fiesta pulled over a corner from the finish.
The Qatar M-Sport team had instructed Novikov to pull over as soon as Meeke arrived on his tail.
The windscreen on Meeke's DS3 WRC had been peppered with stones and the lack of visibility forced him off the road and caused him to get a front-left puncture.
The Northern Irish driver was livid with Novikov and spoke to him at the end of the stage.
"I just asked him what he thought he was at," said Meeke. "You know, we're not playing out here and he's not a little boy.
"I think he really needs to learn some lessons."
Novikov said he didn't receive the instruction to pull over until the end of the stage.
"When I got the message," he said, "I pulled over straight away.
"I think the message was a bit too late and I am sorry about that.
"I spoke with Kris and told him I was sorry, but I couldn't see what was behind me because I had no time for the mirrors when I was trying to see through the smashed windscreen."
Meeke dropped around half a minute in the stage and this time could be credited back to him if the rally officials feel he was seriously impeded.
Qatar M-Sport team principal Malcolm Wilson apologised to Meeke and the Citroen team, but Yves Matton said: "We have no problem, this is not a team thing. But I think the driver needs educating..."
Meeke injured his finger while changing the puncture after the stage, but the Citroen medics sorted that out at lunchtime service.