German GP: McLaren not expecting more tyre issues
| | |
| --- | --- |
| By Jonathan Noble | Friday, July 5th 2013, 12:15 GMT |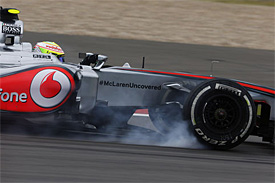 McLaren has faith that there will be no repeat of the Silverstone tyre dramas at this weekend's German Grand Prix following the first running of the new rubber.
With Pirelli bringing Kevlar-belted tyres, allied to imposing strict limits on camber and pressures, McLaren sporting director Sam Michael says that early indications point to a trouble free weekend.
"We ran the medium compound this morning and put quite a few laps on it just to make sure there is no issue," he explained. "There is no issue, and we don't expect any huge issues with it anyway."
Michael said it was too early to understand what impact the new tyres would have on the competitive order, especially as track conditions were quite cool in the early session.
He also said that McLaren would have no problems to comply with the recommendations of camber and pressures, which are slightly stricter than they were at Silverstone last weekend.
"Pirelli know what happened at Silverstone, they are addressing it now, and if there were teams running outside of the spec then we fully support and encourage Pirelli and the FIA to ensure that teams run within it," he said.
"It is there for a reason and, regardless of what happened at Silverstone, they need to have the confidence that if they specify something then people run to it."
The positive news from opening practice has eased concerns about a potential driver boycott of the German Grand Prix, and Michael believes the Grand Prix Drivers' Association (GPDA) stance was based more on emotions anyway.
"It is the drivers driving the cars and they are the guys driving at 300km/h and having a tyre explode," he said. "I cannot imagine that is a pleasant thing.
"I can understand the emotion behind it, but it is probably slightly delayed. I would have expected it on Sunday night as a reaction to Sunday.
"Having seen all the steps that Pirelli and the FIA have been through in the last four days to correct things, the timing almost removes the punch of it.
"The chances of it happening are very small, but anyway it is the drivers. If that is how they feel, then I respect that. They are the ones driving the cars, not me."